The Real Reason Logic Spent Over $220K On A Pokemon Card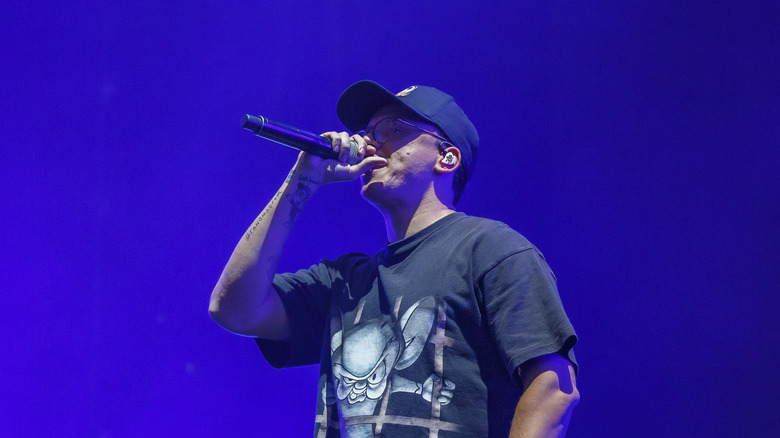 Mark Horton/Getty Images
A rare Charizard Pokemon card was put on auction last Friday via Iconic Auctions. Bidding was quickly closed when retired rapper Logic bought the card for $220,000. Afterward, Logic — aka Sir Robert Bryson Hall II — shared his reason for purchasing the rare card on Instagram.
Advertisement
"When I was a kid I absolutely loved Pokémon but couldn't afford the cards," he wrote. "I remember even trying to trade food stamps for theirs and now as an adult who has saved every penny he has made being able to enjoy something that I've loved since childhood now as a grown man is like buying back a piece of something I could never have..." Logic added, "it's not about the material it's about the experience," which presumably meant he was less infatuated with the value of the card and more excited about getting something he was never able to have as a kid.
According to an interview Logic gave to NPR, he grew up in a poverty-stricken area in Maryland where his dad was a drug addict and his mom spouted racial slurs at her biracial children. He was homeless for a significant part of his childhood as he tried to support himself with multiple jobs at once. The rapper also faced struggles with identity because his mother was white and his father was black. Being biracial, he faced many bullies who called him "cracker" and "white boy." Logic has cited his childhood as the inspiration for his career. The rapper expresses his feelings on identity through songs such as "AfricAryaN" and "Everybody."
Advertisement
"People say, 'What would you do if you didn't do this?' And to be quite honest, I'd be dead or in jail or I'd be a drug addict," he told NPR. "That's what was laid out for me, period, unfortunately. I used to have nothing to lose, so that's why I would go as hard as I did — because I had nothing to lose and I had everything to gain."
The video posted by Logic showed him opening the package and screaming in excitement when he saw the holo Charizard. With his backstory in mind, fans showed their support for the card and Logic himself through their Instagram comments. Acollageofpoeticverses wrote "Amazing story" while carieocrenshaw named the card a "throwback" and thejollynecromancer challenged the rapper to a Pokemon duel.
The card itself, which is officially named the 1999 1st Edition Shadowless holographic Charizard #4, was graded as GEM MINT 10 by the PSA, an authentication company. In order for a card to reach this level, it must have the original gloss and zero stains, among other criteria. Iconic Auctions called the Charizard the most coveted Pokemon card.
"This is the Holy Grail of Pokemon cards, the most iconic and important card to both the Pokemon franchise and its die-hard fans," Iconic Auctions wrote on its website. "Indeed, this card can be compared to the T206 Wagner for baseball and 1986-87 Fleer Michael Jordan for basketball. It has attained a similar iconic status as far as Pokemon go, setting the stage for modern investment in today's lucrative modern card market."
Advertisement
This is not the only time valuable Pokemon cards have made the news cycle. Another Charizard card worth $55,000 gave YouTuber Leonhart a boost to his channel when he found it during an unboxing video. Unfortunately, he lost the card in a shipping error. Additionally, another card, a No 3. Trainer worth $60,000, also went missing in transit. Some other expensive Pokemon cards include the Umbreon Gold Star POP Series 5 ($400-$900) and the Shining Charizard (worth up to $2,000).
In comparison to these cards, Logic's Charizard looks even more impressive. Perhaps not as impressive as his rap career, though. The rapper has released 10 albums, the most recent being 2020's Low Pressure, according to Spotify. Logic has 13,376,000 monthly listeners on the music streaming service. His 2017 album, Everybody, was his first project to break through the Billboard 200, and he received a Grammy nomination for the song "1-800-273-8255."