The Real Reason Fortnite Is Offering Refunds For NFL Skins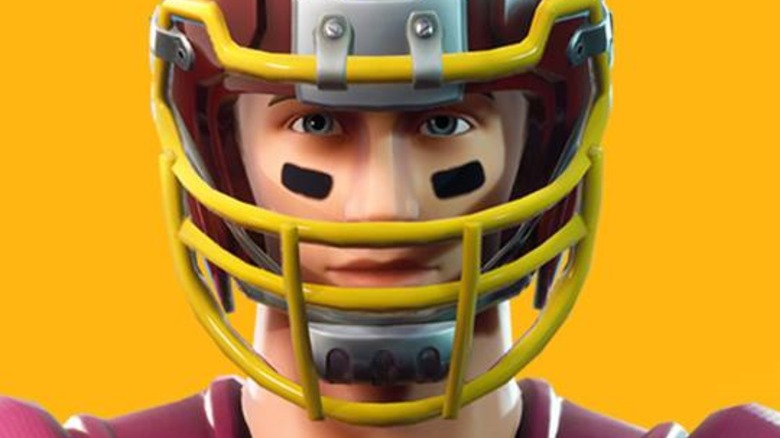 Epic Games
If you own one of the 2018 NFL Skins in the Fourth Down set on Fortnite, you may have received a notification the last time you logged in that changes have been made to the outfit. Epic Games is issuing refunds for Spike, Blitz, End Zone, Gridiron, Interceptor, Rush, Juke, and Strong Guard as long as you request your money back before November 12.
While Epic did not announce an official reason for the refund, @iFireMonkey of Fortnite Intel tweeted that the refund appears to be the result of the Washington Redskins' July 2020 name change. It is unclear why Epic might have waited so long to remove the outdated outfits, as the National Football League's current season is in full swing. 
The outfits no longer have selectable versions featuring the Washington team's old logo and team name, so you won't be able to customize them that way, although the colors remain. If that bothers you, and you want to return your skin as a result, you don't even need a refund token. If you do have one, simply go to Settings / Profile / Lifetime Return Requests / Submit a Request. The NFL outfit should be one listed as eligible for returns. If you don't have a token, simply play a game or enter and leave Fortnite's Creative Mode. You should see the Lifetime Return Request then. Once your return is processed, you should be able to get 1,500 V-Bucks for your trouble.
This isn't the first time Fortnite has issued a refund: It did so in 2019 when it offered a dog item that was too similar to one it had already had available. This time around, the cause is more external. The Washington Redskins announced months ago that it would change its name temporarily to the Washington Football Team, in an effort to remove racially insensitive associations with its previous team name and logo. That's what's causing the refund in Fortnite. 
Activists have been requesting for decades that the Washington, D.C. team, which originated in Boston as the Boston Braves, reconsider and remove the Redskins name. The term "redskin" has long been considered by many citizens to be a pejorative and appropriative term referring to the Indigenous peoples of the United States. 
The Boston team's name was changed from the Braves to the Redskins in 1933, ostensibly to honor Coach William "Lone Star" Dietz, although this may not have been true. The team was moved to Washington, D.C. in 1937 and got a new fight song, which included the words "Scalp 'em." The lyric was not changed until 1972. In 1992 and 2006, petitions were created to revoke the team's trademarks as disparaging to Native American people, but they were eventually denied. The Redskins name has remained controversial since then, with management saying over the years that the name would never change. Recent events, though, resulted in the Washington team's management finally agreeing to the alteration.  
The death of Black man George Floyd at the hands of white police officers and a perceived increase in police brutality incidents in 2020 has fostered a more racially sensitive environment, leading to a country-wide cultural awakening. Companies have decided to change long-standing brand names that are now considered questionable due to racial stereotypes and other concerns. Among these is Aunt Jemima, a 130-year-old brand from Quaker Oats; Dreyer's Grand Ice Cream's Eskimo Pie, which is now known as Edy's Pie; and Uncle Ben's, which is known now as Ben's Original. Building names have also been changed to reflect the country's new sensitivity to concerns regarding Black and Indigenous populations. 
As part of this movement, Redskins management bowed to pressure from Nike, PepsiCo, FedEx, and others to retire the name and move on. The team announced that owner Dan Snyder and coach Ron Rivera would develop "a new name and design approach." The Washington Post reported, though, that the new preferred name was being held up by trademark issues. So, the Redskins went into the 2020-21 football season as the Washington Football Team, with new uniforms in the familiar burgundy and gold color scheme featuring the player's number prominently displayed on the helmet.
But naturally, now that the team has made the change, Fortnite's skins are obsolete. And it isn't the only video game property that has had to change things up. Less than a week after the Redskins' announcement, Electronic Arts announced that Madden NFL 21 would remove all references to the Washington Redskins. Since the game was, at that time, already being pressed into discs for an Aug. 28 release, the removal was made upon update.
Considering that the Washington team's current branding is not final, it's very possible that more changes will need to be made once the front office over at the Washington Football Team has revealed what the team's final name and look will be for the next chapter in its storied history. At that point, perhaps Fortnite and the Epic Games Store will offer something new to fans that won't need a retraction anytime soon.