Genshin Impact Vs. Breath Of The Wild: Which Is Better?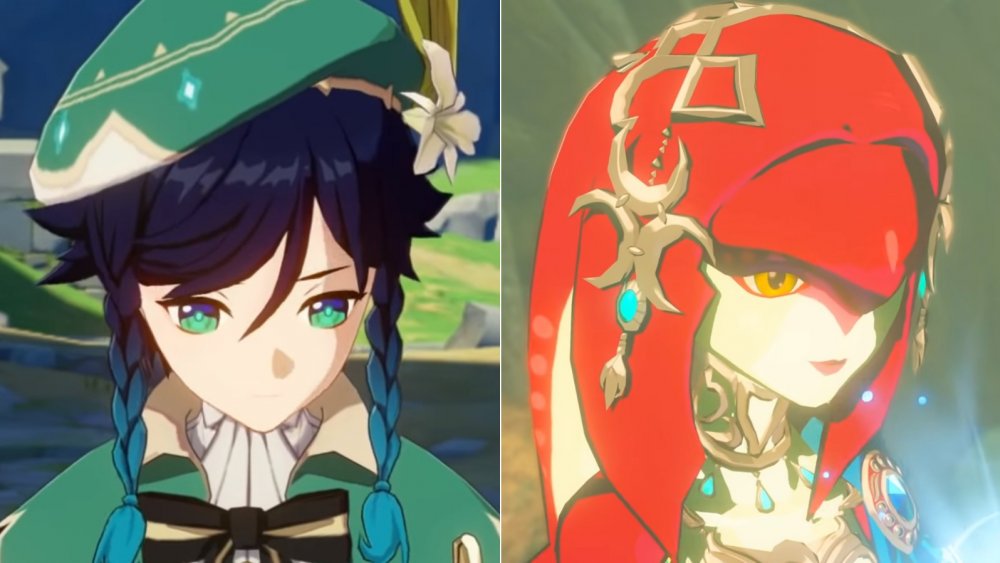 miHoYo, Nintendo
The Legend of Zelda: Breath of the Wild is a classic by any metric — a gold standard for action-adventure games set in an open world. And, it has been wildly influential. In fact, the anime-styled Genshin Impact from MiHoYo first made waves by evoking major comparisons to the blockbuster Nintendo game. With its similarly cel-shaded graphics, Genshin Impact immediately incited anger in fans as a Breath of the Wild clone when it was first revealed in 2019, but it has since distinguished itself with its four-person party, JPRG elements, combat mechanics, and gacha-style transactions.
If you're trying to determine which of these titles you should play first, you might want to consider factors such as cost, platform, and gameplay style. After all, Breath of the Wild is a Nintendo exclusive that's sold at a premium price, while Genshin Impact is currently available on PC, PlayStation 4, and both Android and iOS phones. It plays slightly differently on all platforms but remains free to play on each. However, if accessibility isn't a factor, you may just wish to know which game is considered to be the better one.
The Legend of Zelda: Breath of the Wild
Since its release in early 2017, many superlatives have been applied to The Legend of Zelda: Breath of the Wild. At Metacritic, where the game has a Metascore of 97 and a User Score of 8.6, fans call it "amazing" on a consistent basis. One user, bimbarabim, calls it "the best game in gaming history" and isn't the only one to honor the title in those grandiose terms.
Back when it was released, Eurogamer said Breath of the Wild was "a total marvel" thanks to a superb sandbox game design free of bloat and preconception. Time dubbed it a "masterpiece," calling it "an experience so simultaneously prodigious and accomplished that it feels like a mind-blowing mic drop" to other open-world games.
And the acclaim keeps coming. In 2018, comic book writer Chris Sims told Looper that Breath of the Wild has probably ruined all other open-world games for him. In 2019, Polygon declared in a headline that "Breath of the Wild is one of the best games of this decade, and perhaps the most impactful of the next decade." In 2020, a CNET commentator said he was still recovering from the game and that there's been nothing been like it before or since.
Basically, The Legend of Zelda: Breath of the Wild is considered by many to be the greatest of all time, so it's always worth playing.
Genshin Impact
Genshin Impact launched on September 28 and is still gaining traction among fans. It's new enough that Metacritic doesn't have a Metascore for the iOS version, and the Android one doesn't exist there yet. Currently, the PC version gets a Metascore of 83 and a User Score of 7.5, while the PlayStation 4 version gets a Metascore of 81 and a User Score of 7.0. Users praise the graphics, combat system, and the beautiful world but have mixed reactions to the gacha-style mechanics.
Still, reviewers like it. A convert from Forbes declared that Genshin Impact "boasts an entirely better combat system than Breath of the Wild." The reviewer also praised the game's storytelling and characterization as better than the Legend of Zelda game, though noting that it falls way short in other areas, such as puzzles and level design.
At GamesRadar, a reviewer acknowledged that Genshin Impact has some "cool ideas" that set it apart from its predecessor, noted that the gacha system hasn't become predatory, and concluded that it's "totally worth your time." A Sixth Axis reviewer marveled at how "polished, gorgeous, ambitious, [and] addictive" the game is. "No matter what device you choose to play on, you're still diving into one of the most impressive and unobtrusive free-to-play games I've ever experienced," he said.
It's still the early days for Genshin Impact, but this one may shape up to be a worthy successor to Breath of the Wild. With zero cost to play, you might as well try it, anyway.