How To Unlock The Daredevil Outfit In Fortnite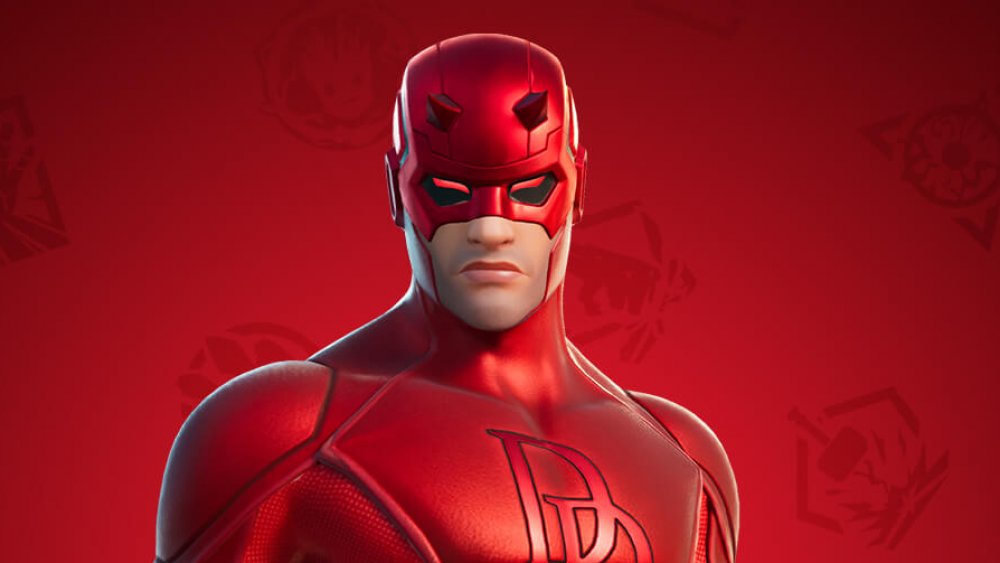 Marvel/Epic Games
Fortnite has delivered some pretty amazing crossovers thus far. Many of the seasons from the popular battle royale have featured collaborations with Marvel Comics, DC Comics, Borderlands, John Wick, Star Wars, and a bevy of other recognizable properties.
Speaking of Marvel Comics, Fortnite: Chapter 2 - Season 4 introduced several of the brand's most recognizable heroes and villains as unlockable character skins. Storm, Iron Man, Captain America, Wolverine, She-Hulk, Mystique, Dr. Victor Von Doom, and Groot now exist within the Fortnite universe. The game's Marvel: Nexus War event also features numerous Marvel locales that fans can explore, such as the Doom Domain, Sentinel Graveyard, Avengers Helicarrier, Panther's Prowl, Ant Manor, The Collection, and Stark Industries. 
The current Marvel Comics season of Fortnite is continuing with the addition of a new hero skin that players can add to their in-game closet. And that costume has ties to a familiar inner-city "defender" that comic book fans know all too well: Daredevil.
Latecomers have to buy the Daredevil Skin from the Item Shop
In a bid to expand upon Fortnite's Marvel Comics presence, Epic Games introduced a new competition and hero costume. From Oct. 14 through Nov. 21, teams of players can participate in the Marvel Knockout Super Series. This event features four competitive cups with a focus on the Marvel Knockout game mode. Those four cup competitions will then culminate in a final, million-dollar tournament.
The first cup was the Daredevil Cup, which celebrated Marvel's iconic "Man Without Fear." The top teams that emerged from each participating region during that first cup got early access to the Daredevil Outfit before it hit the Item Shop for everyone else. As a special bonus, every player who participates in all four cups will receive an exclusive Nexus War Glider.
Fortnite's Marvel Knockout is set up as a unique spin on Fortnite's Operation: Knockout mode, which centers on teams of players that tap into a well of super-powers across four competitive rounds. Each round sees a team utilize a different set of abilities as they fight to emerge as the ultimate victor during this super-powered tussle. This Limited-Time Mode was the main focus of the Daredevil Cup. If you missed out on the Oct. 14 event, you'll have to unlock the Daredevil Outfit in the Item Shop like other skins.