How Xbox Justifies A $220 Memory Card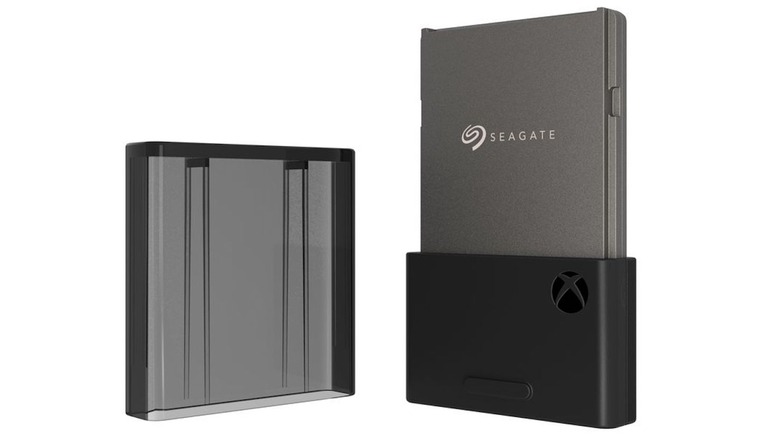 The release of the Xbox Series X and Series S is just weeks away, and gamers still have plenty of questions regarding the performance of both consoles. Specifically, there has been a lot of chatter concerning the amount of storage space available for the new consoles, particularly the Series S. To that end, Xbox recently turned heads when it announced the price point for external memory for new Xbox consoles. A 1TB external SSD from Seagate will apparently run customers a cool $220. While this has been blasted by fans, a recent report suggests that the SSD may actually be worth the price.
Jeff Grubb of VentureBeat recently had a chance to go hands-on with the new 1TB expansion card. Naturally, he wanted to see what made the thing tick, so he decided to dismantle it. Grubb's main question going into this teardown was, "how can a hard drive possibly justify $220 for 1TB of storage?" What kind of work went into this new SSD? How much of it is custom and how much of it is just like other SSDs on the market?
The first thing that Grubb noticed was the metal chassis used to reroute heat. Grubb also noticed thermal paste connecting the SSD's SK Hynix NAND Flash memory and Phison PCIe 4.0 controller to the drive's shell. Basically, Microsoft and Seagate expect the SSD to get extra hot during prolonged use, so gamers shouldn't be too surprised if this thing feels warm to the touch. 
This detail seems like it could go a long way toward explaining one of the major problems with the Xbox Series X. Some journalists and content creators who have had an opportunity to go hands-on with Microsoft's newest console have complained about the system's excess heat. In particular, the external SSD has been described as being way too hot to hold. During a recent episode of The Giant Beastcast, co-host Jeff Bakalar had issues holding the Seagate drive in his hand. Though Bakalar wanted to hold the SSD up to the camera for his co-hosts to see, he had to quickly put it down. When the other panelists began laughing, Bakalar explained that the SSD felt like it was "on fire." At the time, it seemed as though there was a chance that Bakalar was playing the heat up a bit, but this new teardown article from VentureBeat seems to back up Bakalar's concerns.
Grubb was particularly impressed by the SSD's Phison flash controller, which he described as "an industry leader." He also noted that the SSD's NAND memory is extremely efficient in the way that it layers memory cells. Grubb wrote, "SK Hynix's new 4D NAND ... is how Seagate was able to get 1TB of storage space onto a single chip inside such a tiny form factor." Basically, this SSD may be teensy-tiny, but it's cleverly designed and packing a ton of power.
Ultimately, Grubb was pleased with his findings. Still, the price tag is undeniably steep for people who are looking for a budget option. Grubb wrote, "The Seagate's $220 price makes sense when you factor in the increased performance ... But fair price or not, $220 is a lot of money."
At the end of the day, gamers are still faced with the option of buying a $220 external drive in order to give the supposedly "budget-priced" Series S a memory comparable to the Series X. In doing so, the Series S actually becomes a larger investment than the Series X. This is why some outlets, such as CCN, are recommending the Xbox Series X as an overall better value.
Jeff Grubb concluded in his teardown that it's very likely that Xbox will eventually lower the price on its 1TB Seagate external SSD. Grubb explained, "It's also in Microsoft's own interest to ensure you have enough storage. It wants you to subscribe to Game Pass, which has over 100 games. It doesn't want you worrying about storage — it just wants you downloading the next game. So expect prices to come down."
However, Grubb believes it's very unlikely that the cost will drop before the launch of the new Xbox consoles. Instead, Grubb theorized that there may be another external SSD released in the future, which may in turn encourage Microsoft to lower the price on the 1TB unit. Grubb wrote, "I think we'll see a 2TB option in the next year or so ... Maybe that launches at $220, and the 1TB option drops to something closer to $170."
Only time will tell. At the very least, it is good to know that this new Seagate expansion card has the quality to back up its unpopular price point.