Fortnite Just Got Hit With The Shrink Ray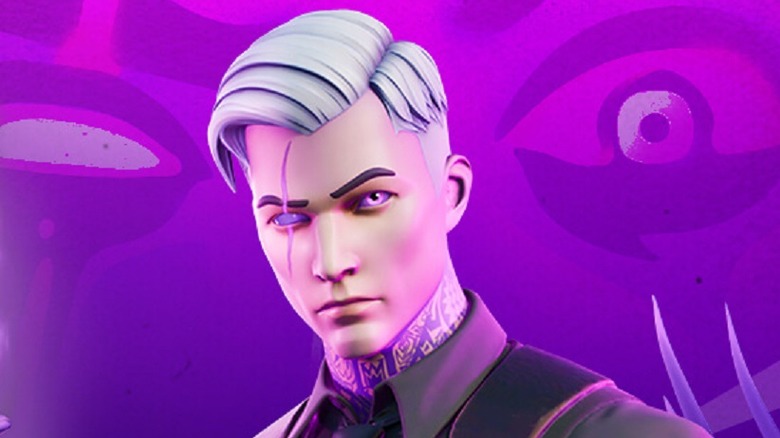 Epic Games
Game size doesn't always apply to in-game content — it also applies to the storage a game takes up on your computer or console. You only have so many gigs available, and live service titles are constantly updated and tend to guzzle space. What only took up 19 GB at launch could require 98 GB after a year or two. So, what happens when games such as Fortnite try to take up too much disk space?
Fortnite's latest patch, v14.40, is currently available for download. The update includes quite a few additions, such as bug fixes for Creative mode and the annual Fortnitemares event starring a newer, more evil Midas with ghoulish powers (guess he wasn't as dead as previously thought). However, the meat of the changes comes in the form of optimization that gives game files a code liposuction.
According to the official Fortnite status Twitter channel (not to be confused with the official Fortnite Twitter account), the PC version of the game patch will be larger than normal at about 27 GB. Many of these new files will provide code optimization so the game can leave a smaller footprint. PC players should see their Fortnite file shrink by at least 60 GB. For the sake of comparison, The Witcher 3: Wild Hunt – Game of the Year Edition reportedly only takes up around 50 GB.
If you were to liken Fortnite v14.40 to a diet, you would be more correct than you realize. After all, a successful diet doesn't just shave off pounds, it keeps them off. The Fortnite status Twitter channel also claims the update will improve the game's loading performance, as well as shrink the size of future patch downloads.
Some gamers have already downloaded the update and reported how much space it ends up saving. Twitter user The_Equalizer74, for example, stated Fortnite's file size had gone from 99 GB to 29.5 GB after the patch. That's 69.5 GB of newly freed space.
While this optimization news is a blessing for gamers who don't have large hard drives or still use slower HDDs instead of the faster and more expensive SSDs (or both), Fortnite's patch is far from unique. Destiny 2, for instance, is a large game in terms of content and storage space. The game currently takes up a lot of real estate on PC and even more on consoles, which results in long load times. To fix this issue, the developers at Bungie plan to introduce a new system known as the Destiny Content Vault, or DCV for short.
The DCV, which will launch with the Beyond Light expansion, will achieve the similar results to Fortnite's optimization patch but with different methods. According to Bungie, the DCV will shrink Destiny 2's file size by 30-40% (anywhere between 59 and 71 GB), but instead of cramming the same amount of data into a smaller space, the DCV will carve up the game experience and place content gamers rarely use in the vault. 
In other words, DCV will decrease Destiny 2's file size by surgically removing vestigial game locations. Bungie won't permanently say goodbye to vaulted content. Every so often, the company will rotate out levels placed in the vault so players can return to old stomping grounds, but this will come at the cost of other pieces of content to keep Destiny 2's file size to a minimum.
Moreover, the DCV will set itself apart from the new Fortnite update by applying to all versions of Destiny 2. Meanwhile, Fortnite v14.40's optimization only applies to the PC version. Xbox One, PS4, Nintendo Switch, and mobile versions of Fortnite apparently still have to deal with an exponentially-increasing file size (at least for now).
News of Fortnite's PC optimization patch has been well-received thanks to the ever-increasing need for speedy digital real estate. Hard drives are becoming larger and faster to accommodate ever-growing game file sizes, so any patch that speeds up load times and saves a few gigabytes is a welcome sight. If only the same could be done for Call of Duty: Modern Warfare/Warzone and its alleged 250+ GB worth of hard drive space.