Mario Kart 9: When Will We Get The Sequel?
It's been years since Nintendo fans have gotten a truly new, console-ready Mario Kart. That's right — Mario Kart 8, which was re-released in 2017 as Mario Kart 8 Deluxe with improved graphics, more tracks, and a Battle Mode, first appeared on the Wii U in 2014. This means, of course, that fans are rarin' to go for a new Mario Kart installment, but it doesn't look like one is forthcoming anytime soon.
Advertisement
Mario Kart has long been one of Nintendo's most successful franchises. According to an IGN article from January 2020, the games in the Mario Kart lineup have sold 142 million units, which means it has outsold the original Super Mario Bros. trilogy. That number has propelled the complete collection of Mario games to a gross intake of over $30 billion for Nintendo, making the little plumber mascot the symbol for the best-selling video game franchise of all time. There are currently 10 console or handheld games in the Mario Kart series, four arcade games, and one mobile game in the series that began in 1992.
 So why isn't Nintendo carrying on the tradition and releasing Mario Kart 9 yet? And what's holding it up? Well, one factor — and likely the major one — is that it has three separate Mario Kart releases out right now. 
Advertisement
Nintendo is focused on current releases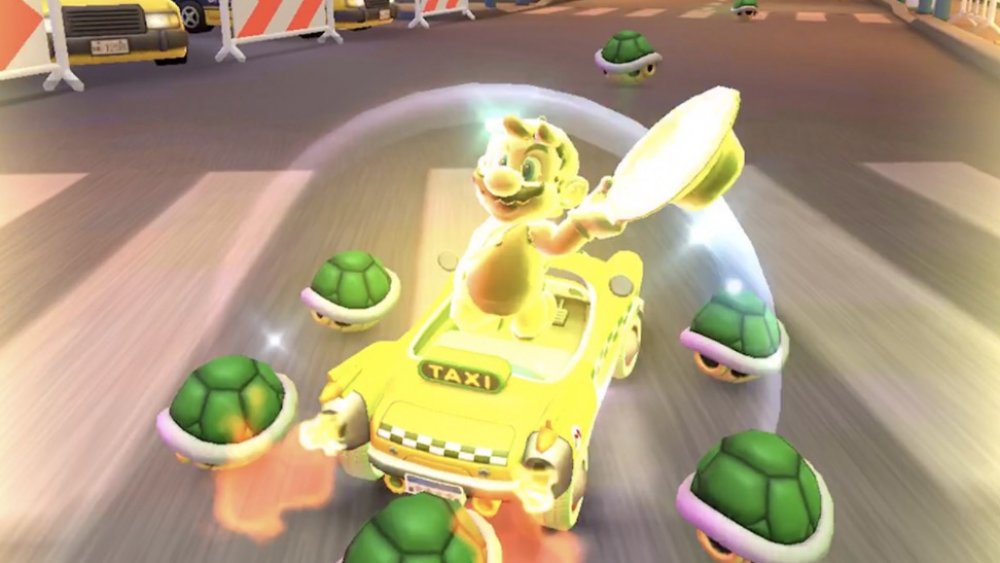 Nintendo
Mario Kart 8 Deluxe has sold more than 26 million units and remains Nintendo's current mega-hit best-seller, with four million more units sold than the second-place seller, Animal Crossing: New Horizons. And the game continues to do pretty well: for the period of April-June 2020, it sold 1.97 million units, second only to Animal Crossing, which was released on March 20, 2020.
Advertisement
Meanwhile, Mario Kart Tour, the free-to-play mobile game that celebrated its one-year anniversary in September 2020, is getting consistent multiple monthly updates. Nintendo announced a Halloween Tour in October 2020, and also added the Maple Treeway and a Tier Shop. The game gets regular character updates as well as tracks, featuring additions like Baby Rosalina and Shy Guy. Nintendo has said that it does not release download information, but analytics company Sensor Tower estimated that the game was downloaded almost 124 million times in its first month. Nintendo credited a 32.7% growth in its mobile business from April to June 2020 to both Mario Kart Tour and a renewed interest in Animal Crossing: Pocket Camp as a result of New Horizons' release. 
Advertisement
And on Oct. 16, 2020, Nintendo released Mario Kart Live: Home Circuit, which uses players' real-life homes to create in-game tracks. Given how much life the current Mario Kart generation has to it, it's no wonder Nintendo isn't in any hurry to release another brand new game in the mainline series. 
It may be a while before Nintendo makes Mario Kart 9
If you look at the history of Mario Kart games, there's really been one main game per system. Each of its consoles and handhelds has had one Mario Kart game apiece, starting from the beginning of the franchise. This may make gamers think that it's time for Mario Kart 9, since originally Mario Kart 8 was created for the Wii U. However, the Wii U was widely considered a flop, thanks to issues such as confusing marketing. Fans speculate that Nintendo considers Mario Kart 8 Deluxe to be the Switch's Mario Kart entry, which means the company may not attempt to make another mainline title until Nintendo takes on a brand new console.
Advertisement
And that may be a while. Nintendo Switch sales got a boost in 2020 because of the COVID-19 epidemic, despite shortages in components for manufacturing. The Switch is already considered one of Nintendo's most successful platforms with more than 61 million units sold and it hasn't lost momentum, resulting in "significant sales growth for the entire Nintendo Switch family," as the company's report for the 2019 fiscal year stated. 
Additionally, Nintendo's representative director and president Shuntaro Furikawa said in a September 2020 policy briefing that "Nintendo Switch is just entering what we consider the middle of its lifecycle." If that's true, the Switch (which was launched in 2017) should be around through 2023. That means a new Mario Kart might not debut for another three years.
Advertisement