Gears 5 Fans Just Got Great News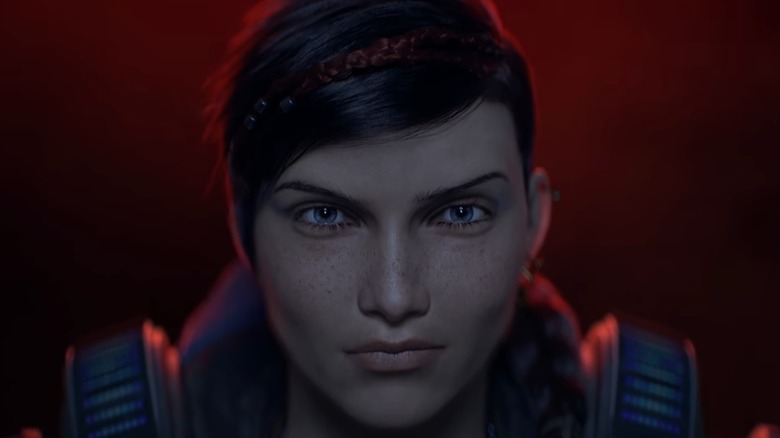 Xbox Game Studios
Gears of War might not be the series that put the Xbox on the map, but Microsoft is still putting a lot of money, effort, and focus into the franchise. The company recently announced the latest entry, Gears 5, will launch on the Xbox Series X day one with new features and updates, including 120 FPS action and the ability to tag out Marcus Fenix for Batista in the story mode. However, the good news train keeps on chugging since The Coalition will expand on the Gears of War narrative with a first for Gears 5: story DLC.
IGN broke the news that Gears 5 will receive a new DLC pack titled Hivebusters. Gears 5 lead producer Zoe Curnoe isn't sharing any story details since its name is "a little hint as to what that content might contain." However, as the article indicated the DLC has the same name as a five-part Gears of War comic miniseries, odds are the upcoming story expansion will star the titular Hivebusters from the comic, many of whom also appear in Gears 5's Escape mode.
For those unfamiliar with Gears lore (or at least Escape mode), Hivebusters are squads of soldiers who sneak into Swarm hives to demolish enemy bases and everything else in their path. That by no means guarantees Hivebusters will be a story-driven, single-player Escape-like experience, but odds are you will get to see Escape's main cast of Jeremiah Keegan, Lahni Kaliso, Leslie Macallister, and the rest of Team Scorpio back in action. Perhaps Hivebusters will be a video game adaptation of the comic.
While Microsoft hasn't shared any more about Hivebusters' content, Curnoe told IGN that players can expect around three to four hours worth of playtime and that more details will be made public in December. Curnoe has yet to comment on Hivebusters' price (assuming it isn't free), but she said the expansion will "be available on the new consoles as well," implying it will launch on the Xbox One alongside the Xbox Series X|S versions.
Interestingly, many gamers didn't expect Gears 5 story DLC since The Coalition reportedly lacked interest in producing any. But, fans apparently hounded the company with requests, so The Coalition eventually relinquished and started development on Hivebusters. While Hivebusters doesn't have an exact release date, you should expect more information before the DLC's launch near the end of 2020.