This May Be The Best Dr Disrespect Costume Yet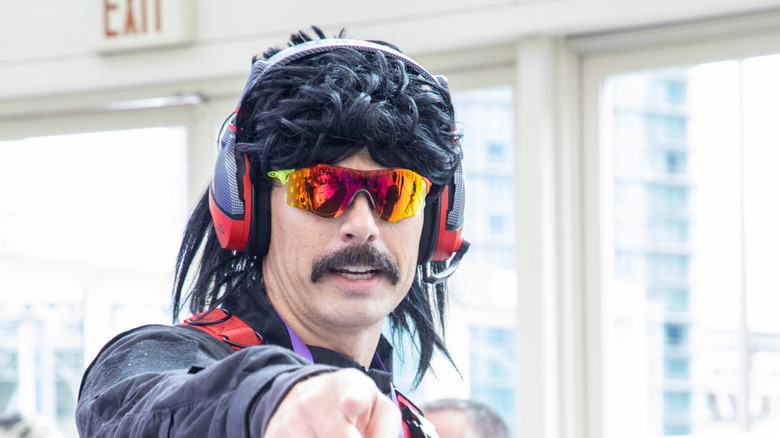 Espat Media/Getty Images
Fan-favorite game streamer Herschel "Dr Disrespect" Beahm did something special during the month of October once again, as the gaming personality pushed his followers to participate in his fourth annual Halloween costume contest. Throughout the month, fans used the hashtag #Doctober to submit their best Dr Disrespect costumes with pictures and even videos of them mimicking his signature antics. Men and women of all ages donned their best Dr Disrespect mullet wig, glasses, and mustache alongside his signature headset and body armor. There were even pics floating around on Twitter of Jack-o'-lantern's sporting Dr Disrespect's unmistakable likeness.
Content from Dr Disrespect's "Doctober" contest has dominated much of his YouTube channel recently. A highlight video that was posted on the channel saw him reacting to a majority of the top submissions. One Doctober submission in particular caught his eye and led to him getting a kick out of what was presented to him.
During one of his recent streams, Dr Disrespect watched a video submission that showcased a little kid wearing his signature gear. What made that clip even more entertaining was the kid's recital of Dr Disrespect quotes as he handed out punishment in Call of Duty: Warzone. While watching the hilarious clip unfold, Dr Disrespect could be seen shouting excitedly and looking quite pleased with the young fan's performance. The wholesome clip was uploaded to TikTok by the kid's father, who posted it under the name @rabidw4lker.
Even though the young Dr Disrespect look alike didn't place in the top three submissions for the Doctober contest, his submission still managed to get a great reaction out of the legend himself. After sifting through a flood of submissions, Dr Disrespect finally selected the top three and tweeted out a custom pic of them all. Third place went to Jakub Burza, second place was awarded to Jean Mango, and first place was given to Jesse Navarro and his son, London.
As for what each winner received, third and second place won a Turtle Beach Stealth 600 Gen 2 Headset, an Elo USB touchmonitor, a Vulcan TKL keyboard, a Kain 120 mouse, a signed poster, and a signed shirt. First place got their hands on a Turtle Beach Elite Aero headset, a headset stand, a Sense XXL mousepad, a Kain 200 mouse, an Elo USB touchmonitor, a signed poster, and a signed shirt.
As always, Dr Disrespect's name has been circulating in the news. His recent ban from live streaming platform Twitch seemingly cost him a partnership with Activision for the upcoming FPS Call of Duty: Black Ops – Cold War. The website Sportskeeda noted that prominent Call of Duty streamers have already received their creator codes for the game, such as Symfuhny, TimTheTatman, and Nickmercs. Unfortunately, Dr Disrespect is reportedly no longer a partnered Call of Duty streamer.
A video posted by Jake Lucky of the Esports Talk YouTube channel spoke on the issue and showed Dr Disrespect getting emotional about the drama at hand. The streamer provided some insight into his Activision ban.
"It is kinda crazy to think, that because of this little purple platform, and for whatever reason, all of a sudden Activision, one of the biggest publishers and biggest franchises, decided not to support the Doctor, and give us a code and be a part of this whole launch of this new Cold War game," said Disrespect. "It's pretty crazy isn't it, Champions Club? Come one man. It is pretty crazy." Dr Disrespect continued by saying "it is a phony f***ing world out there. If you are trying to become a streamer in this world, man. Be as generic and regular as you can."
As far as successful gaming partnerships go for the Doc, his likeness has been attached to the multiplayer third-person shooter Rogue Company. A map called "The Arena," which owes its inspiration to his virtual stadium, has also been added to the game.
Even though Dr Disrespect is no longer streaming on Twitch, his switch over to YouTube has kept his fan base intact. His comeback video currently sits at nearly three million views. His subscriber numbers are also well over three million at the time of this writing. On top of that, he's been seen playing alongside fellow streamers and celebrities. Dr Disrespect's more recognizable gaming pals include PewDiePie, Scout, Snoop Dogg, and Odell Beckham, Jr.