What Critics Are Saying About Marvel's Spider-Man: Miles Morales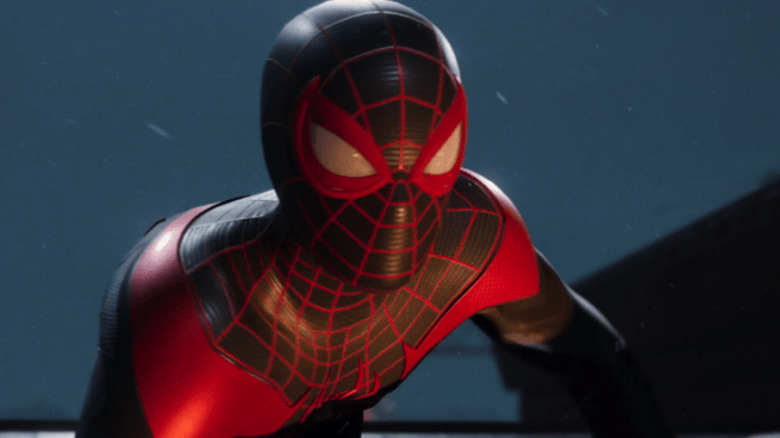 Sony Interactive Entertainment
Spider-Man: Miles Morales finally releases next week alongside the launch of the PlayStation 5. Fans of the wall-crawling superhero have been waiting patiently to learn how the game stacks up to its predecessor, 2018's Marvel's Spider-Man. The good news is that critics are responding positively to the rookie Spider-Man's first solo video game outing.
According to IGN's Jonathan Dornbush, Spider-Man: Miles Morales manages to build off of everything that came before it to tell an engaging and exciting story. Not only does the new game show an evolution in Miles' character from Insomniac's first Spidey adventure, but it also manages to tie in elements of the original comics and the beloved animated film, Spider-Man: Into the Spider-Verse.
Miles' characterization is even explored in how the game is controlled. While Eurogamer's Martin Robinson praised the web-slinging mechanics, he also pointed out that Miles moves like he's still learning how this all works. Little touches like this help to differentiate Miles from Peter Parker, which also endear him to the player. The Verge's review actually found Miles to be a much more enjoyable and relatable character than Peter Parker.
Aside from its excellent storytelling and voice acting, critics have also applauded the game's sharpened combat system. The Guardian's Keith Stuart greatly enjoyed using Miles' venom strike and stealth abilities, writing, "Once you get the hang of things, combat feels balletic, as you spin, glide and wall jump around your foes."
On the downside of things, Spider-Man: Miles Morales has been knocked a bit for its short length, particularly when compared to its predecessor. According to GamesRadar+, "For all the visual spectacle and genuine joy of seeing Miles step up as a character, there's no getting away from the fact that you'll likely see the credits roll before your other launch games have finished downloading." Still, you may be able to squeeze a few extra hours out of the game by completing all of its side quests and finding every last collectible. Tom's Guide wasn't too fond of some of the side missions, but was very much impressed by the game as a whole.
GameSpot's Jordan Ramée felt that the PS5's DualSense controller didn't offer much of a difference between the PS4 and PS5 versions of Miles Morales. Overall, however, Ramée appreciated the "cool bells and whistles" provided by the new controller, including increased trigger tension during webslinging.
Minor gripes aside, it's looking like Marvel comics fans are in for a treat when Spider-Man: Miles Morales swings onto PS4 and PS5 on Nov. 12.