KFC Just Took A Shot At Cyberpunk 2077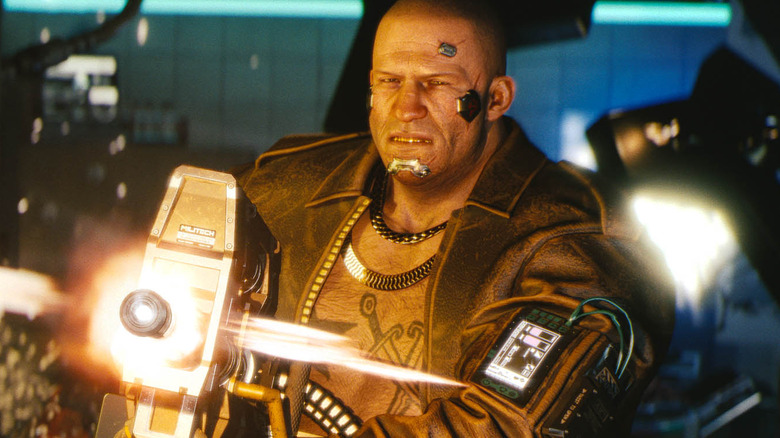 CD Projekt
A recent Twitter post from KFC Gaming showed up with a familiar, ominous caption — "We have important news to share with you." The latest "news" from the chicken restaurant chain comes in the form of a text box which mirrors the one from CD Projekt Red's Oct. 27 announcement that Cyberpunk 2077 would be delayed once again.
The similarities are uncanny — the same template, the same placing of logos in the top left corner — and although KFC's post a different color scheme, it's clearly meant to be a parody of the Cyberpunk 2077 announcement. The KFC Gaming message takes that infamous announcement nearly word for word, with a few necessary changes.
We have important news to share with you pic.twitter.com/El2G0IrrAG

— KFC Gaming (@kfcgaming) November 12, 2020
"Today, we've decided to move the release date of the KFConsole by 29 days. The new release date is December 11," the message read. After offering its "humble apologies," KFC Gaming went on to explain the reason for the delay. "The challenge for us right now is creating a literal console that warms chicken, which requires us to prepare and test many elements of it ... while working from the home." 
One of the "elements" mentioned in KFC's announcement was the "Chicken Chamber" — whatever the heck that is.
KFC Gaming then echoed the words of Cyberpunk 2077 regarding certification, but with its own twist. "Passing certification means the console is ready, can be completed, and is Finger Clickin' Good to go." As for the supposed release date "delay," KFC Gaming had this to say: "We are a UK based team, and the release date was always December 11th. So literally nothing has changed, some of you just assumed wrong. See you in December."
When the official Cyberpunk 2077 Twitter account became aware of the post making a mockery of them, the reaction was one of good humor. "We'd love to respond but corporate approval team never got back to us," the game's profile tweeted. CD Projekt Red's Twitter account even joined in on the joke, replying with a gif of The Office character Kevin Malone smugly saying, "Well, well, well."
For those who don't remember, KFC Gaming seemingly decided to throw their hat into the ring of next-gen consoles back in June, making the announcement with a video which introduced the KFConsole. It was all in fun, of course, and the KFConsole doesn't actually exist. KFC Gaming's account was created in August 2018, likely as a response to other fast-food chains who have collaborated with gaming console companies (like the recent team-up between Burger King and PlayStation).