What This New Fortnite Feature Could Mean For The Future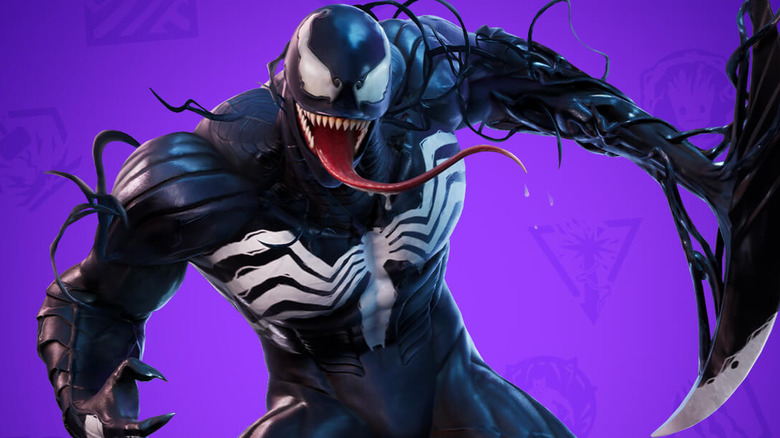 Epic Games
In a fast-paced game like Fortnite, communication is the key to victory. You can't help your allies corral enemies into a trap — or warn your friends they're about to fall into one — if you can't talk effectively. While Fortnite already has a voice chat, the devs have decided to add another optional to the arsenal of communication options in the form of video chat, and just in time for what might be the biggest event in Fortnite history, too.
Instead of going the obvious route and adding an in-game video chat feature, Epic Games is actually implementing Houseparty app integration. All you have to do is download the program onto your smartphone, pair your Houseparty app with your Epic Games account, and you are ready to video chat your way to victory. Plus, as a thank you gift, everyone who links their accounts will receive a free Rainbow Fog Wrap, which gives your in-game items a swirling neon party color palette.
Even though the Fortnite/Houseparty integration only currently works with PC, PlayStation 4, and PlayStation 5 versions of the game, it paints an accessible future for Fortnite. Not everyone can afford the luxury of a gaming headset, but far more people have a smartphone. Setting up a Houseparty video chat to communicate with Fortnite allies is far cheaper than buying a headset, and you don't have to worry about earphones chafing your ears. Of course, since the app only works with the PC, PS4, and PS5 versions of Fortnite, you can't use Houseparty with the Nintendo Switch, Xbox One, Xbox Series X, and smartphone ports. Still, with any luck, that might change.
Epic Games isn't the only (or first) company to use phones for in-game chat. One of Nintendo Switch Online's key features is a smartphone app that let players chat with friends while playing supported Switch games. While many gamers and critics disliked the concept, the idea might have struck a chord with Epic Games. However, instead of producing its own app, the company just integrated a program that already existed. This is not surprising, since many timed Epic Games Store exclusives are titles that Epic Games threw money at to receive first dibs.
Odds are good that Epic Games' deal with Houseparty might produce a wave of other video game video chat integrations. Do not be surprised if a company like Microsoft soon produces its own Xbox party app — or at least implements a video-game oriented mode for Skype.