The New Indie Game Studio Dragon Age Fans Will Want To Follow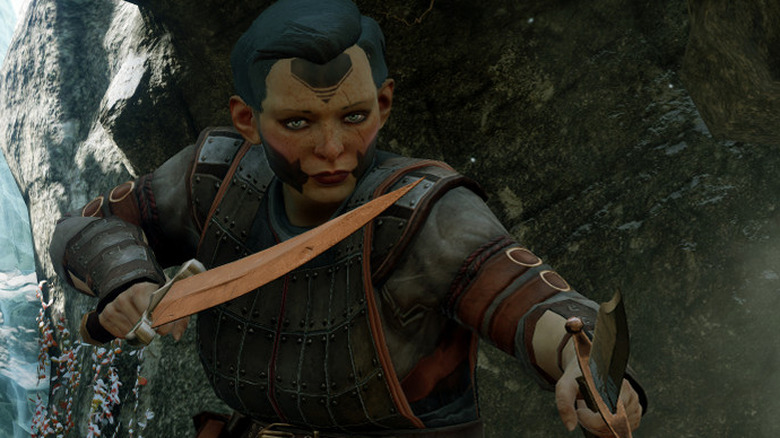 Electronic Arts
It's always shocking to hear about notable developers departing big name studios. However, it's always cool to see those same devs move onto another studio, or even create one of their own.
A talent closely associated with the Dragon Age series recently announced his affiliation with a studio he's responsible for founding. Mike Laidlaw, the former Creative Director for the Dragon Age franchise, is now the Chief Creative Officer behind Yellow Brick Games. Laidlaw has also played a key role in the development of other notable BioWare titles, such as Jade Empire, Mass Effect, and Sonic Chronicles: The Dark Inquisition.
Yellow Brick Games is an independent studio based out of Quebec, Canada that has a slew of other industry vets associated with it. Alongside Laidlaw, Yellow Brick Games features talent such as Jeff Skalski, Thomas Giroux, and Frederic St. Laurent B. 
Skalski has taken on the role of Executive Producer and Chief Operating Officer for the newly announced studio, Giroux is the Chief Executive Producer, and Frederick St. Laurent B is the studio's Game Director. Skalski has worked closely with popular IP's such as Assassin's Creed and XCOM, Giroux previously worked with Ubisoft and Activision Blizzard, and Laurent B has also done work on the Assassin's Creed franchise.
The newly founded studio has already made its mission statement clear via its official website. "We believe very strongly in creating digital playgrounds," the site noted. "The more interactivity and freedom a game can give to a player, the more immersive and compelling it can be, so long as there are clear rules that guide those interactions. We feel that a truly emergent game can engage players through their own creativity and will offer tools that let our players share those experiences."
Along with the studio's co-founders, Yellow Brick Studios already has 13 other game designers under its umbrella. Some of the more important roles, such as Concept Artist, Software Engineer, and Game Director, have already been filled. Even still, the studio is still in the midst of adding even more workers to its roster. "As a company founded in the midst of a global pandemic, Yellow Brick Games is open to and experienced with remote work and work from home situations; our team is already composed of people in multiple countries," the studio site's jobs section made sure to mention.
Yellow Brick Studios isn't the only development studio to have opened in 2020. Former Blizzard talent now head up Dreamhaven and Frost Giant Studios, while a collection of former CD Projekt Red and Techland employees came together to found Starward Industries.