Everything You Need To Know About Fortnite's Subscription Service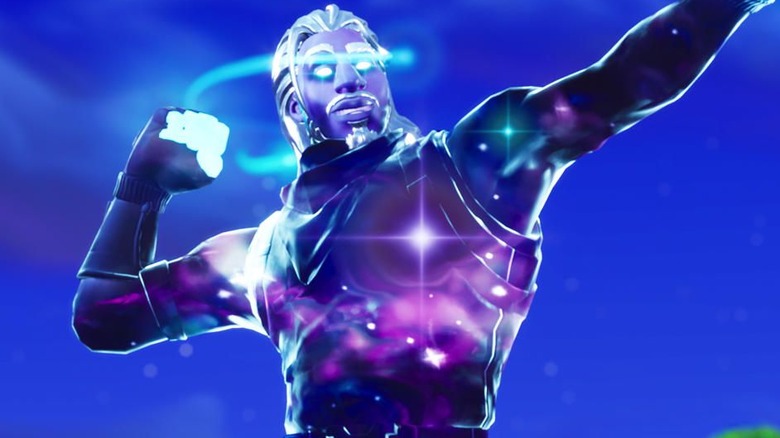 Epic Games
A brand new subscription service is heading to Epic Games' Fortnite alongside the release of Chapter 2 Season 5 on Dec. 2. The service, called Fortnite Crew, will give players access to each season's Battle Pass as well as a ton of monthly exclusive bonus items.
As detailed by IGN, Fortnite Crew will cost $11.99 each month for the current season's Battle Pass and 1,000 V-Bucks, plus a Crew Pack filled with a brand new Outfit Bundle every month, complete with at least one accessory made available only to subscribers. Players will be able to purchase their subscriptions from the Item Shop or Battle Pass screens. If a player has already purchased the Battle Pass separately before signing up for the subscription, they actually will be refunded 950 V-Bucks and will still receive the rest of the Fortnite Crew perks.
Epic revealed that the first Outfit Bundle will include the galaxy-themed Galaxia Outfit and Style, plus the Cosmic Llamacorn Pickaxe and Fractured World Back Bling. As Polygon's Austen Goslin noted, the true value of the subscription service comes down to how much a person plays Fortnite. After all, the Battle Pass alone costs $9.50, so players who are already purchasing each one individually can receive the Battle Pass and more for only an extra $2.49. Moreover, 1,000 V-Bucks have a $10 value when purchased separately. Epic has assured that the Fortnite Crew Outfits will never be sold to non-subscribers, so Fortnite Crew members will receive a unique and exclusive experience.
The current season of Fortnite, Chapter 2 Season 4, is set to finish on Dec. 1, bringing an end to the Nexus War with an expected arrival from Marvel's Galactus, Devourer of Worlds. Beyond that, not much is known yet about what's to come in Season 5, but PC Gamer predicted a possible DC Comics-themed follow-up to the current Marvel theme, since there is a Joker skin coming soon. For now, players will have to focus on the Galactus event, which will see the villain swallow the island whole.
The upcoming season could very well be a huge deal for Fortnite, as reliable leaker Lucas7yoshi recently claimed with "100 [percent] confidence" that Epic will be adding modding support to the game. This means that Fortnite players may be able to change parts of the game to keep it fresh, but Epic did not confirm the rumor. Another leaker, iFireMonkey, claimed that Epic will make a big announcement about the game during The Game Awards on Dec. 10. At this point, the announcement could be about anything regarding the future of Fortnite, so fans should stay tuned.