Sony's Partnership With Travis Scott Is About To Get Bigger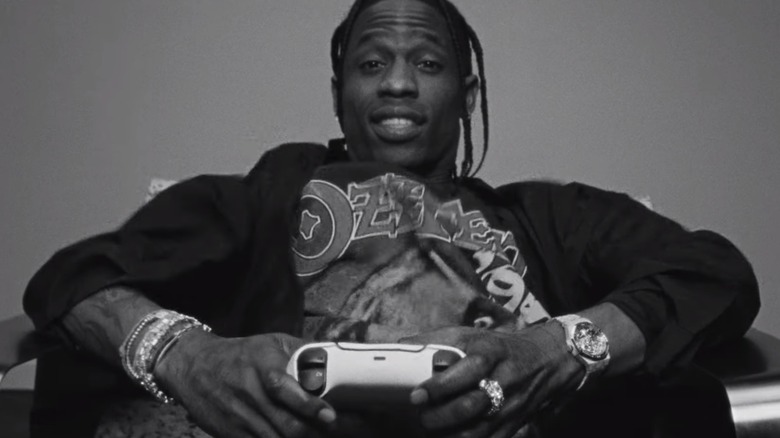 YouTube/PlayStation
Rapper Travis Scott is a huge gaming fan, and that has become abundantly clear through his various partnerships within the last couple of years. Two years ago, Scott was part of a record-breaking Twitch stream, when he joined Ninja and a few other celebrities to play Fortnite. Earlier this year, Travis Scott held a bonkers concert inside of Fortnite, which set a record for the most concurrent players in Fortnite history. Now, it looks as though Scott may take the next step and become a video game character himself.
Shortly before the launch of the PlayStation 5, Sony joined forces with Travis Scott, announcing that he had joined the company as a "strategic creative partner." It wasn't entirely clear what this entailed at the time, but the hype was real. According to a post on PlayStation Blog, the goal of this partnership was "to produce innovative projects that we hope will delight our collective fans." Shortly thereafter, the company released an over the top short film featuring Scott chilling in the middle of a desert while he tried out multiple PS5 games for the first time, seemingly cementing the collaboration between Travis Scott and the PS5 brand.
During a recent interview with Forbes' Abram Brown, Scott hinted at more things to come in his partnership with Sony. When asked about what exactly he and PlayStation had in store for fans, Scott cryptically replied, "It's all going to roll out in the next couple of weeks." 
However, what was more interesting than Scott's comment is what Abram Brown told readers next. Brown wrote, "A source later says that [Travis Scott has] a multiyear deal that could involve a cobranded console and perhaps even a game designed by Scott. Expected earnings: $20 million or more."
In other words, Sony is apparently going all-in on Travis Scott-branded content. Gamers have seen different mock-ups for fan-designed PS5 consoles, but Forbes' source seems to be implying that the first officially-licensed custom PS5 might be one designed to Scott's specifications. Furthermore, the idea that a Travis Scott video game may be on the way is a fascinating one. Fortnite fans already got a glimpse at what a computer-generated Travis Scott looks like, but what would a game designed by the rapper himself be like?
There is actually quite a storied history to video games starring rap artists. For instance, 50 Cent starred in a cult classic shooter called Blood on the Sand, while Snoop Dogg was at one point set to headline his own game, which was sadly canceled. 

Whatever Travis Scott has up his sleeve, it's a good bet that the fans will be on board to check it out. This is precisely what Sony is banking on, and it makes this PlayStation/Scott partnership a collaboration to keep an eye on.