Why Fans Are Conflicted About The Nintendo Switch Update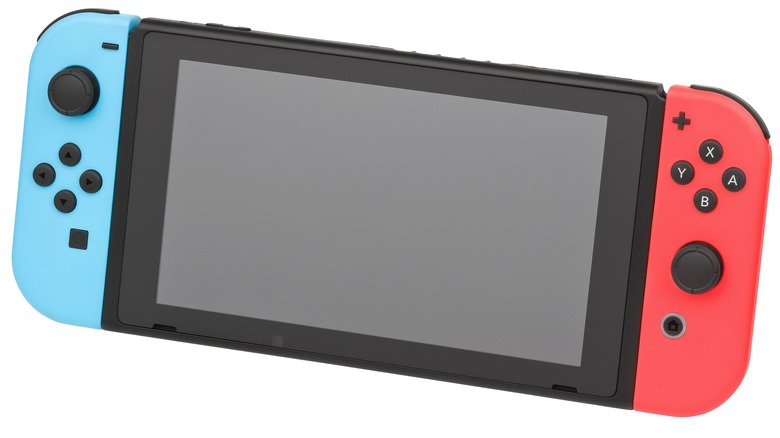 Evan-Amos/Wikipedia
Nintendo rolled out a new update for the Switch this week, bringing a ton of additional features and small changes to the system. Among the key features is a new Nintendo Switch Online button on the home screen, as well as an easier way to transfer screenshots, both of which have led fans to conflicted feelings about Version 11.0.0.
Firstly, as Polygon has reported, the screenshot transfer update is a welcomed change, especially after fans spent years uploading images to Facebook and Twitter from the Switch and then saving the images to their smartphones. In Version 11.0.0, users can wirelessly connect smart devices to the Nintendo Switch in order to transfer screenshots and videos directly from the Album, cutting out the need to first post the items on social media (unless you want to). Alternatively, users can use a USB cable to take screenshots from the Switch to a computer.
Another positively-received feature of the new Switch update is the ability to prioritize downloads when there are multiple downloads running at once, whether it be software, update data, or downloadable content, according to The Sixth Axis. Users can set priority downloads on the options menu of the download in question. Additionally, there are 12 new user icons and a feature that automatically downloads backed up save data to secondary consoles.
On the other hand, fans are not too thrilled about the distracting bright red Nintendo Switch Online button that was added to the bottom of the Home screen. Game Rant pointed out that the icon really stands out, considering the rest of the Home screen has a dark background theme and the rest of the icons at the bottom feature simple outline designs. At the very least, Nintendo could have matched the Nintendo Switch Online button to the theme. Moreover, fans on Twitter have noted that the button feels like an advertisement more than anything. "The application serves no purpose," user @RNGTime64 wrote.
The seemingly unnecessary changes don't stop there. Nintendo also added a new "Trending with Friends" feature, which The Next Web's Callum Booth ranked as one of the worst parts of the update. On your player page, a new Trending tab was added to showcase which games your friends are interested in. While this feature is less in-your-face than the NSO button, Booth pointed out that players likely aren't itching to know that eight of their friends have all played the same eShop game.
Nintendo Switch Version 11.0.0 is available now. The software update should automatically download to your system, but it can also be accessed via System Settings.