Prince Of Persia Fans Just Got Bad News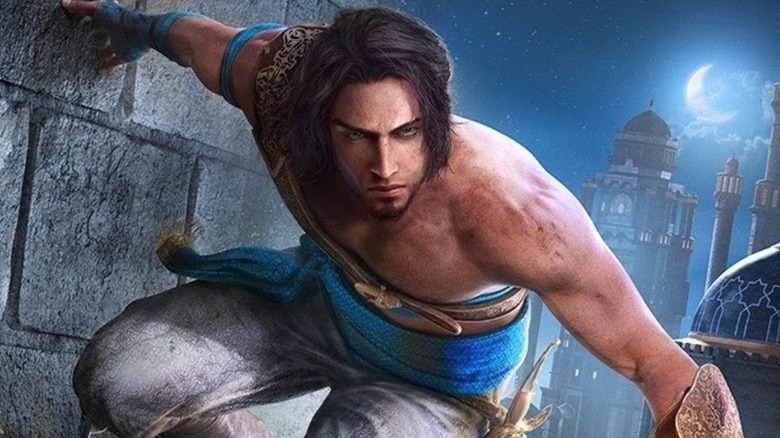 Ubisoft
In Sept. 2020, Ubisoft announced at its Ubisoft Forward event that it would be remaking Prince of Persia: The Sands of Time. Upon seeing leaked images from the new game on Twitter, fans were not exactly thrilled. Through the nature of being leaked images, there's a chance they don't represent the quality of the finished product, so here's hoping the actual game will look better. Since then, there have been more images and a trailer released — which look only slightly better. 
According to GameRant, in a now-deleted Facebook post from Ubisoft Czechoslovakia, it has been revealed that the release date for the Sands of Time remake has been pushed back from January 21 to March 18 2021. The post stated in part, "Today we would like to inform you that we need more time to complete the game. With that, the release date of Prince of Persia: The Sands of Time Remake has been moved to March 18, 2021."
Since the post in question was deleted, it is unclear if that delay is still in effect.
The Sands of Time Remake is in production with Ubisoft Pune, a developer known for its work on mobile games and the Just Dance series. According to GameRant, the studio has a team of over 750 developers, making The Sands of Time the biggest title the studio has worked on yet.
Ubisoft has touted the remake as having been rebuilt from scratch. Sands of Time's director Pierre-Sylvain Gires said in an interview with Ubisoft that they "rebuilt everything from the ground up, because no files were actually usable because of the engine ... We extracted the metrics from the original game, but we rebuilt everything from the ground up." In other words, Sands of Time is going to be a complete remake and not a remaster, according to Gires. 
The original Prince of Persia: The Sands of Time centers around the Prince, who is on a quest to retrieve the Sands of Time and return them to a magic hourglass after accidentally releasing them. One of the great features of The Sands of Time was the ability to rewind time and correct mistakes. The game came out in 2003 on PC, GameCube, PlayStation 2, and Xbox. In 2010, Disney released a film adaptation of the game starring Jake Gyllenhaal as the Prince, which was a critical disappointment.
Still, fans have a lot of love for this franchise, which seemed dead for far too long. Sadly, it seems as though fans may have to wait just a bit longer.