What Critics Are Saying About Call Of The Sea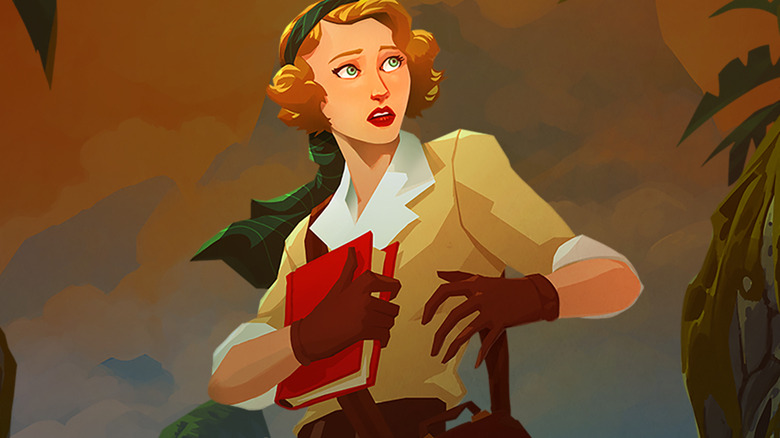 Raw Fury
Call of the Sea is now available for Xbox One, Xbox Series X, and PC. Billed as "a weird tale of otherworldly mystery," the game takes place in the '30s and puts you in control of Norah, who is on a mission to find her lost husband. Throughout the game, Norah explores a South Pacific island in a first-person puzzle adventure. Sounds like a fun premise, but what do critics have to say about it?
Andrew Farrell of PC Invasion thought that games like Call of the Sea play like movies, and while he found its plot rather predictable and the puzzles to be lacking, he was won over by its environments, writing, voice acting, and graphics. Farrell was quite pleased with the level design, stating, "The areas are clearly put-together and memorable, making it easy to get around. As the game goes on, it occasionally changes things up in surprising ways as well." Aside from what he deemed a fairly predictable story and one particularly frustrating puzzle, Farrell liked Call of the Sea quite a bit.
Over on GameSpew, Kim Snaith found Call of the Sea to be a beautiful game. Of the graphics, she said, "There's an air of realism here, but a colour palette that pops off the screen gives the game a dreamlike quality." Snaith mentioned how Norah can take notes for every puzzle you encounter, offering everything needed to come up with a solution. While she did feel that some of the more difficult puzzles interrupted the game's flow, she expressed the great satisfaction that comes from overcoming its most perplexing brainteasers. All in all, she felt that Call of the Sea had a lot going for it, with a few in-game bugs as her only complaint.
Writing for TheSixthAxis, Steve C felt that the game did a good job using its environments to create a feeling of isolation that contrasts with the otherwise vibrant surroundings. Like the others, he loved the visuals, calling it "bright and bold with an organic style that looks like a cross between hand-painted and cel-shaded." He also loved the voice acting, the story, and many of the puzzles, though he suggested that Call of the Sea needed some form of indication that let you know when you had all you needed to complete a puzzle.
Calling it "one of the more interesting examples of a Lovecraftian narrative in action," Screen Rant's Rob Gordon felt that the game's character development was its greatest strength. He also appreciated the way the story unfolded through in-game elements. 
Critical reception of Call of the Sea is clearly positive. If you're a fan of puzzle games and Lovecraft stories, this might be the perfect game for you.