Good News May Be On The Way For Kojima Fans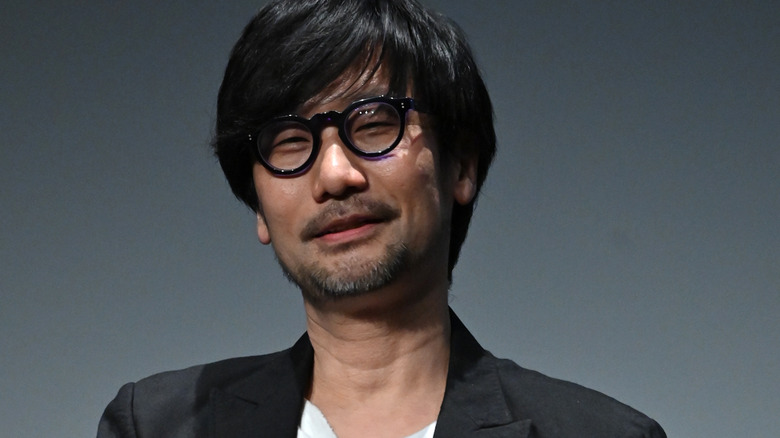 Theo Wargo/Getty Images
Although Hideo Kojima may have left Konami in 2015, the mind behind such hits as the Metal Gear franchise and Death Stranding seems to have had no trouble continuing to make a name for himself. Soon after parting ways with Konami, Japanese game director and developer Hideo Kojima formed the independent studio Kojima Productions, partnering up with Sony in the process.
After Death Stranding earned mostly positive reviews from critics and gaming audiences alike, many fans have wondered what the studio has next in store. It looks like they will soon have their answer. On Dec. 15, a tweet from Kojima Productions hinted that "exciting updates" will be announced via various social media platforms on Dec 16. The date is significant for Kojima because it marks the fifth anniversary for the studio.
This cookie crumb of news has fans trying to predict what the big announcement might be. Comments on Twitter speculated that Death Stranding may be receiving patches for the PS5, including a higher FPS rate and usage of the haptic feedback on the PS5's dual sense controller. Or it could be a Metal Gear Solid game, some fans thought. Still others are hoping for a new Silent Hill game, a project that was promised years ago and sadly never came to fruition.
Silent Hills, which was to be the newest game in the popular horror franchise, was to be developed by Kojima and filmmaker Guillermo Del Toro and meant to feature actor Norman Reedus, who went on to star in Death Stranding. The game started out under Konami's umbrella, and a "playable teaser" (titled P.T.) released on PS4 had fans excited for the next installment. However, after Kojima's exit from Konami in 2015, the Silent Hills project was scrapped, and P.T. was pulled from Playstation's digital store. A lucky few were able to play P.T. on their PS5 for a brief period before Playstation corrected the issue. 
If rumors are true that Sony has bought out Kojima Productions, then fans may just get their wish for Silent Hills to be back in the picture. While the Silent Hill IP is still owned by Konami, reports have indicated that Sony has made attempts to come to an agreement with the studio that may revive the cancelled title and make it a PS5 exclusive. Fans can only hope at this point, and will have to wait until the announcement on Dec. 16 to know for certain.