Good News Is On The Way For Diablo And Overwatch Fans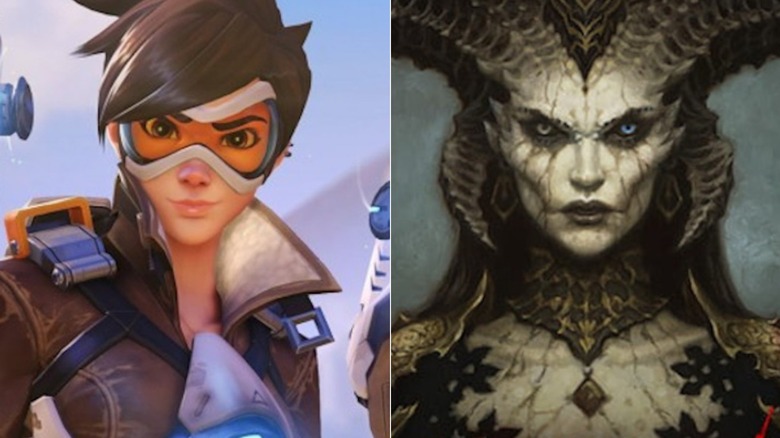 Blizzard
Fans of Overwatch and Diablo have something to look forward to in 2021: BlizzCon Online, happening on February 19 and 20, will feature updates on the highly anticipated Overwatch 2 and Diablo 4. Overwatch director Jeff Kaplan and Diablo director Luis Barriga sent out quick updates on their respective games, Kaplan on the official Overwatch YouTube channel and Barriga on Blizzard's website.
In the quarterly update on Diablo 4, Barriga explained that itemization will be the biggest revision to this new Diablo chapter: Developers "paid special attention to early player feedback" and "reviewed every aspect of itemization from top to bottom and reworked elements that we felt weren't living up to their potential." They reworked everything from "the individual stats that our classes tap into to the visual representation of items in your inventory." Included in the update was information about skill trees, primary stats, weapon types, item qualities, legendary affixes, and uniques. Another big update is in the skill trees, where the ability to respec your character will be "unlimited, but it won't be free." The goal is to make players invest in their characters and make more conscious choices about their skills. Barriga ended his introduction by stating that the next Diablo 4 update would be featured at BlizzCon Online in 2021. Fans are hopeful for a release date at the Con as well.
As for Overwatch 2, Kaplan put out a six-minute video explaining the new "free-for-all deathmatch map," which came into production as a test for a new level designer and "was so good that the team wanted to bring it to full production." The new map is called Kanezaka, placed just below Hanamura. Kaplan states that there's some "contextual storytelling" they're doing with Kanezaka with "some Easter eggs and some payoff that's going to come in Overwatch 2." Overwatch 2 is a step away from the PvP mode of the first game, leaning into a story- and lore-driven PvE mode for the second installment. Because of this, Kanezaka is full of lore that ties into Overwatch 2. Kaplan specifically states that "you should really pay attention to every piece of graffiti [and] every location in this." Kanezaka will be released on the Public Test Realm in December and released officially in early 2021. 
Updates for Diablo 4 and Overwatch 2 are expected for BlizzCon Online. The convention is free to watch and takes place on February 19 and 20, 2021.