Ninja Accused The Wrong Team Of Cheating This Time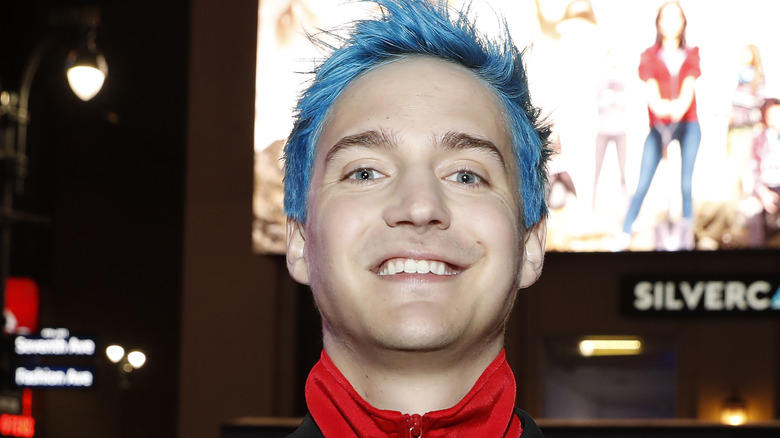 Michael Owens/Getty Images
Tyler "Ninja" Blevens is facing backlash after he accused Valorant team Built By Gamers (BBG) of cheating in a recent match against his own team, Time In. The popular streamer and pro gamer's move led BBG to be temporarily disqualified from advancing in the Knights Before Christmas Invitational.
As Dextero reported, the accusations against BBG's Tristan 'Critical' Trinacty came after a clip circulated of Critical allegedly "locking on" to a Time In player, suggesting the use of some kind of aimbot. BBG won the Dec. 20 match against Time In 2-0, but BBG was quickly disqualified as tournament organizers Pittsburgh Knights investigated the incident. As a result, Time In advanced to the quarterfinals. That is, until Pittsburgh Knights found the allegations to be inconclusive and overturned the ban so that Time In will no longer participate in the next round. BBG was allowed to advance, but the team tweeted that it decided to drop out to prepare for other Valorant tournaments.
Things only got worse for Ninja when he took to Twitter to make comments about Critical following the overturn. Fortnite pro AlexJJ of team Rogue suggested that Pittsburgh Knights run another match to make up for the incident, which prompted Ninja to write, "[Y]ou are saying that if there are suspicions of someone cheating (for the 4th time) in a tournament for money, don't do anything until after, even though they knocked out several deserving teams unfairly?"
While it's true that Critical was previously accused of cheating in matches three times, Valorant developer Riot Games cleared the player in all three incidents. On Twitter, streamer and content creator THump pointed out that Critical's previous allegations should not have been taken into account. "First 3 times he was cleared by Riot, who has a lot more information than we do," he wrote.
Pittsburgh Knights also faced backlash after the quick move to disqualify BBG with little evidence. In his own tweet, games industry analyst Rod "Slasher" Breslau called it a "hasty decision." Meanwhile, Critical thanked fans for their support on that "stressful day."
Ninja has a history of speaking out against alleged cheaters, making it clear that he does not support the action. Back in March, Ninja, a very influential figure in the streaming community with more than 16 million Twitch followers, broke his silence on Fortnite pros Slackes and Keys cheating in a tournament, saying he was "disappointed" in the players because they were "too talented" to cheat. "This competitive scene is purely ran by kids," Ninja said in a discussion of that particular incident.