The Latest Stardew Valley Update Is The Biggest Yet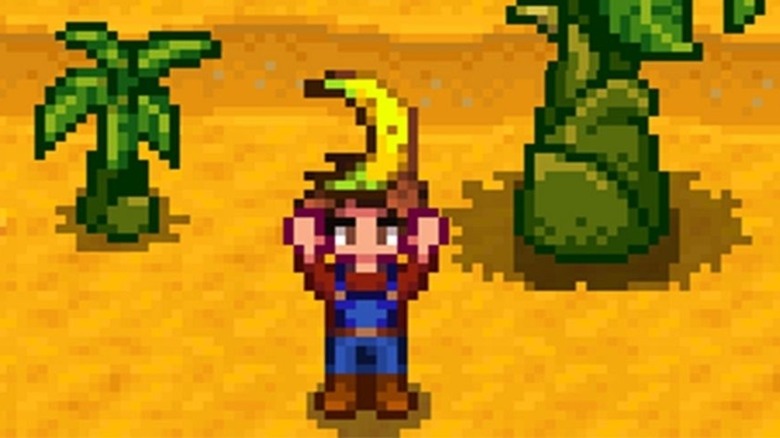 ConcernedApe
Stardew Valley just released its biggest patch to date. The new update, patch 1.5, is adding an entirely new island, new character customization options, a new farm, and most importantly, a split-screen co-op. The new content is being classified as "late-game" content, which means veteran players will have some new material to strive toward and keep them busy.
The update is introducing a beach farm. Stardew Valley developer ConcernedApe states, "If you're a seasoned player thinking of starting a new farm when 1.5 comes out, I'd like to highlight a couple of new features. There will be a new farm type, 'Beach Farm'..." The farm is relatively large and comes with sizeable fishing and foraging opportunities. There is a catch, though: The farm covered in sand — that means that sprinkler use will be prevented. The farm is aimed at more advanced players who are looking for a unique farming experience.
The introduction of Ginger Island is massive news to Stardew Valley players. Ginger Island is an entirely new region to the Stardew Valley universe. The island is set to feature new areas with new NPCs, new quests, new minigames, and a new dungeon that can be found in the volcano. Ginger Island will be full of new items to discover. The patch notes reveal the addition of hidden pages of a lost sailor's journal. The journal entries are set to uncover the sailor's story and the secrets of the island.
The split-screen co-op is one of the most exciting features coming to Stardew Valley. According to the patch notes, up to four players will be able to link up and experience the game together. Players will have to build a cabin (from Robin's menu), and once the cabins are set in place, just open the game menu and scroll down to the multiplayer section and select "Start local co-op." This is an excellent feature for someone who wants to explore the island and force a younger sibling to tend to the crops.
Stardew Valley is delivering new content, bug fixes, and much more. The developer even released the patch early to a few modders so that they could optimize their mods for the game. The update is a welcome Christmas present and will leave players with plenty to do during the holiday season.
Stardew Valley patch 1.5 is currently only available on PC and will be available on consoles early next year.