Former NASCAR Driver Takes His Love Of Gaming To A Whole New Level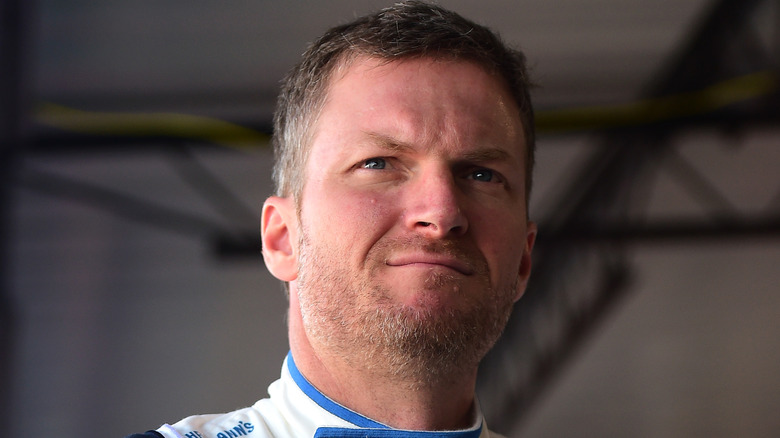 Jared C. Tilton/Getty Images
Racing fans will know Dale Earnhardt Jr. as a professional NASCAR driver and business owner. As it turns out, he's also quite the crafty gamer. The semi-retired racing pro revealed this week that he built his own gaming PC recently after decades of enjoying gaming as a hobby. Earnhardt joins the ranks of many PC gamers who prefer to build their own systems rather than purchasing a gaming PC.
Earnhardt posted a photo of his new gaming setup on Twitter, complete with bright red and blue backlighting in his hardware. In the tweet, he noted that he has "always enjoyed gaming" and that it's been a hobby of his since the mid-'90s. He said he's tried his hand at upgrading hardware over the years, but Earnhardt dived into building a PC from scratch for the first time this year. "It went really smooth but I don't mind that occasional hiccup," he wrote.
As Game Rant noted, the PC's exact specs are unclear, but Earnhardt's graphics card looks to be a GeForce RTX 3080 or 3090. The photo showed a system covered in a transparent glass case with more than six fans and a digital cooling system. Some of the fans featured gentle teal backlights around the rims, while the rest of the setup followed a red theme.
Earnhardt continued on in additional tweets to reveal that he enjoys IT work in general, even noting that he would likely have worked in IT had "this driving thing" not panned out. "Chasing technical problems and helping others with their own systems is something I enjoy," Earnhardt wrote. He then added, "With the fast pace of technology you are always learning, challenged, and anticipating what's next."
Earnhardt's custom-built PC comes just weeks after the former NASCAR driver took another step into the world of gaming. In early November, a press release from iRacing.com Motorsports Simulations announced that Earnhardt would be "immediately" joining the iRacing team as an executive director and a member of the company's management committee. According to the announcement, Earnhardt will lend his knowledge to "numerous aspects" of the online subscription-based racing simulation game, "from partner and community relations to user experience and development of the platform's stock car offerings."
In a statement included with the press release, Earnhardt revealed that he has been a member of the iRacing community since its conception and that he's been a sim racer for "nearly three decades." Although he only officially joined the iRacing team in 2020, Earnhardt has closhttp://wp.looper.com/wp-admin/post.php?post=302648&action=edit#ely contributed to the platform's growth for several years, having brokered the first meeting between NASCAR and iRacing in 2008.
Now, iRacing houses its own NASCAR series that mirrors the NASCAR Cup Series and follows NASCAR's weekly schedule, giving players a chance to race on the very same tracks as top-level NASCAR racers. Players can also join iRacing esports leagues to really enhance the NASCAR pro racing simulation.