Nier Creator Has Two New Games In The Works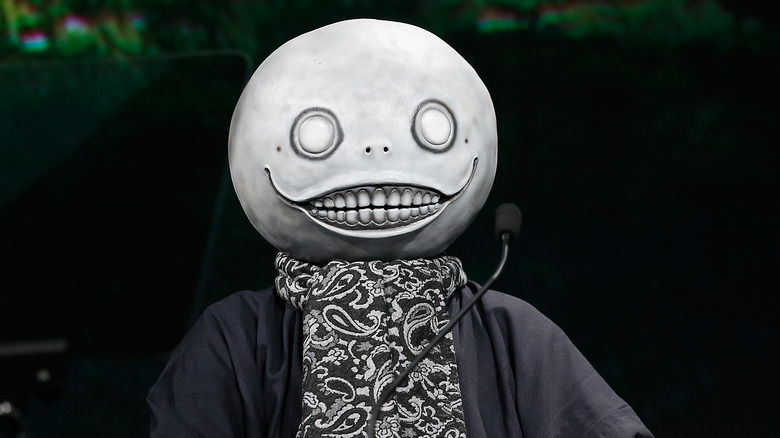 Christian Petersen/Getty Images
Yoko Taro used to be known as that weird man who wears a weird mask and makes weird games. Now he's known as that weird man who wears a weird mask and makes beloved (and weird) games. He might have his hands full with the mobile game Nier Reincarnation and Nier Replicant ver.1.22474487139..., which is a remaster of the original divisive classic Nier, but he has some more games down the pipeline.
Advertisement
To celebrate the end of 2020, V Jump and Famitsu held a "Game industry end of the year party 2020" stream. Many famous Japanese creatives showed up, including Yoko Taro and his partner in crime (and Square Enix producer) Yosuke Saito. While the stream is no longer active, DualShockers and GamesTalk recorded the important talking points, namely that Yoko and Saito are working on two games.
The first is an unnamed project Yoko Taro described as "really unsettling." Admittedly, that label could describe any of his games since they usually deal with mature themes and feature dark plot twists (case in point, Ending E of Drakengard). However, this upcoming game apparently blows all of their other works out of the water, as demonstrated by Saito's feelings about it.
Advertisement
Initially, Saito was against Yoko's pitch, but after an hour of discussion — followed by dinner and wine — Saito relented and started collaborating, a decision he regrets to this day. Saito wants to quit, but he's sticking to it because that's the kind of guy he is. Progress has been slow on this unnamed game, and even though Yoko and Saito have worked on it for about a year, they apparently haven't even nailed down its genre. For all they know, it could turn into a game with a decided female target audience.
Yoko and Saito also have another game up their sleeves, and this one has been in the works much longer. In stark contrast to the purportedly disturbing game, this second one is a passion project for both of them. However, as with the first game, Yoko and Saito didn't mention many details. We don't know the genre, plot synopsis, or planned platforms. We are not even sure if Saito is being coy and secretly referring to Babylon's Fall, even though he reassured audiences that game is still in development.
All that's left to do now is wait for Yoko and Saito's games to launch. Who knows which one will release first.