This Bloodborne Demake Is A Hunter's Dream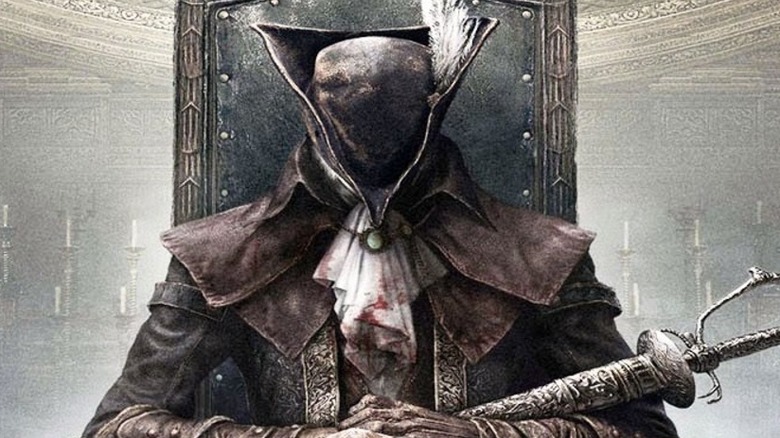 Sony Interactive Entertainment
Imagine it. It's 1998 and the latest PlayStation game has just been released: Bloodborne. Critics are excited for the cutting edge graphics and dark setting. It's one of the most advanced games available for the PlayStation, and it's difficult to boot.
If any of that sounds exciting (or confusing), it might be time to check out a demake that has been catching the eye of hunters all over the internet. Fan-made, retro-style remakes of newer games, also known as "demakes," allow fans to imagine what cutting edge games might have looked like in the 1990s, on systems with less-advanced graphics. Old school versions of new games also allow fans to experience waves of nostalgia, an emotion that has played a huge role in gaming as of late.
The latest Bloodborne demake, which shows what ghastly creatures in Old Yarnham might look like on the original PlayStation, is sure to dredge up some nostalgia in even the most stoic blood beast's heart. Lilith Walther, lead programmer for the upcoming RPG Witch from Heartstrings Media, has been working on the Bloodborne demake for a while, and shares updates about her pet project on her personal Twitter account, @b0tster. The game looks stunning so far, with the hunter protagonist rendered in the iconic PS1 style.
One recent update depicts a visceral attack, which has been modified from a previous version to make it "more punchy." The update post also describes tweaks to player death animations, such as an incredibly accurate depiction of the player turning to ash after being killed.
Walther's not afraid to have fun, though. She's even crafted a Fortnite-style dance for the hunter to perform. The dance should level out any fear viewers feel after watching an attack from an untextured crow.
One Twitter user asked Walther if she plans to release the game or continue working on it personally, and she's thankfully confirmed that the PS1 version of Bloodborne will be released sometime in the future, though no date has been set yet. 
The PlayStation Bloodborne demake isn't the first project to retool what the horror action game might look like in different contexts. Yarntown proved that demakes of FromSoftware's creepy-cool monster hunting game could successfully place the hunter in a Legend of Zelda style 2D world. Of course, seeing Yarntown's success only raises the question of what the game might look like in other genres, like Walther's PS1 demake. Hopefully, time will tell, and fans can lumber through the PS1-style streets of Yarnham soon.