Uncharted Fans Just Got Bad News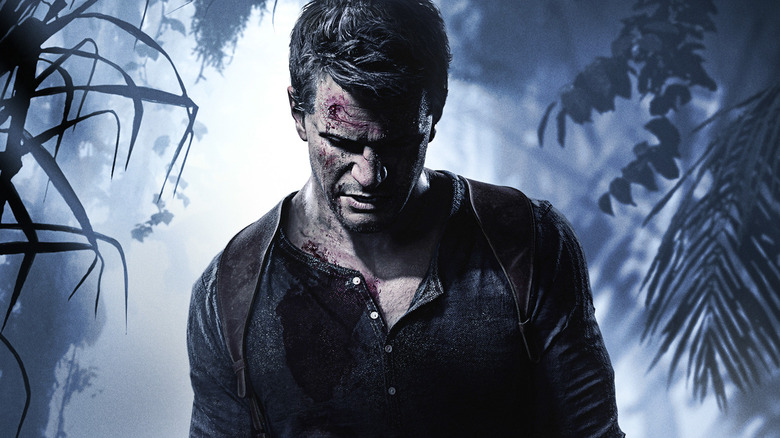 Sony Interactive Entertainment
Fans can add Uncharted to the growing list of upcoming movies that are being postponed until the end of 2021 or next year. Along with a handful of other upcoming films, Sony Pictures is postponing the release film adaptation of the Uncharted video game series. Uncharted will now debut Feb. 11, 2022, according to The Hollywood Reporter. 
This is probably not surprising news for fans of Naughty Dog's treasure-hunting adventurer Nathan Drake. A live-action Uncharted movie has been in discussion since at least 2008, and the project has gone through fits and starts ever since. The movie was scheduled to release on July 16, 2021, but with the coronavirus halting or delaying film releases since the pandemic began, it's no surprise that things are once again delayed. The film, considered a tentpole for Sony Pictures, will star 24-year-old Tom Holland as Drake, as well as co-star Mark Wahlberg, who will play Drake's partner, Victor Sullivan. 
It's no surprise that the film has been pushed out so far. Last week, for the first time in months, White House chief medical advisor Dr. Anthony Fauci told reporters the country can expect to see things finally return to normal starting in the fall this year as the coronavirus vaccine is rolled out to the public.
"If we get 70 to 85 percent of the country vaccinated — let's say by the end of the summer, middle of the summer — I believe by the time we get to the fall, we will be approaching a degree of normality," Fauci said. "It's not going to be perfectly normal, but one that I think will take a lot of pressure off the American public."
That sense of normalcy couldn't come quicker for the film industry, which has been among the industries hit hardest by the pandemic. While production has managed to limp along on many films, movie theaters remain closed (many of them permanently) throughout much of the country. The future of movie theaters is still uncertain.
According to some film industry analysts, Uncharted's delay is part of a trend that will likely continue through the year. "Spring just got gutted and summer is starting to thin out, as nearly every studio flipped release date changes today," Exhibitor Relations tweeted on Jan. 21, "And that's just the beginning. The data seems to be out there. You either go day and date streaming/theatrical or you push 6 to 12 months."
In addition to Uncharted, The Verge reports other delays at Sony Pictures, including Ghostbusters: Afterlife, now slated for a release date of Nov. 21, 2021. Peter Rabbit 2 (originally slated for Jan. 15) and Cinderella (slated for February) have both moved to the summer. Additionally, MGM and Universal will delay the release of the 25th installment in the James Bond series, No Time to Die, to October 2021.