Ex-Nintendo President Admits The High Stakes Truth About The Switch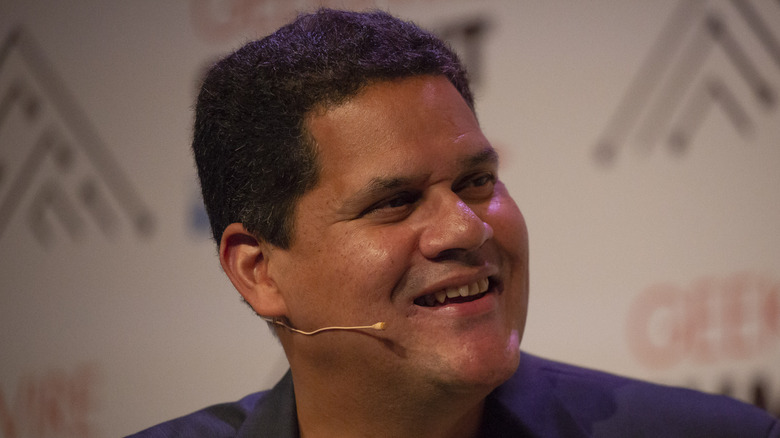 Bloomberg/Getty Images
The Nintendo Switch had a great year in 2020, outselling its competitors by a landslide. With rumors of the Switch Pro circulating periodically, fans wonder what might be next for Nintendo. Despite the massive success of the Switch, Nintendo almost didn't make it through the awful sales of the Wii U.
In an interview at The New York Game Awards, former COO and president of Nintendo of America Reggie Fils-Aime admitted that the Switch was a hail Mary for Nintendo, a last ditch effort to revive the company and reestablish the success of bestselling systems like the Wii.
Fils-Aime explained that both the Nintendo DS and the Wii were created with the goal of growing the video game community. Nintendo intended to make games less intimidating and more accessible for the general public. At a time when many Americans didn't have a console in their home, expanding its user base was a top priority for Nintendo.
The Wii U was meant to be another system that would expand on Nintendo's mission of being an approachable, easy-to-play console option. However, things didn't go as planned, and the Wii U performed poorly, particularly when compared to the Wii and Nintendo's handheld systems. The Wii U only sold 13.5 million units, as compared to the Wii's 101.63 million units. For those doing the math at home, that's approximately ten percent of what the Wii sold.
Compared to the Switch, which has currently sold almost 80 million units, the WiiU was a complete failure. Fils-Aime acknowledged this, saying, "People forget, when the Wii U launched, the performance over that life cycle was so poor. I mean it was the worst-selling platform. I think maybe Virtual Boy was a little bit worse, but Wii U underperformed pretty radically in the marketplace." Fils-Aime described the Switch as "a make or break product for the company."
Fils-Aime called the WiiU a "failure forward," because it led to the creation of the Nintendo Switch. In many ways, the Wii U physically resembles Nintendo's successful Switch console, and it even offered some degree of portability. Ultimately, the Wii U helped Nintendo perfect the Switch, which paid off in the long run. 
Recently, the Wii U had a moment in the spotlight when it began trending on Twitter, thanks to rumors that Rare games might soon be available in Nintendo's virtual storefront. At the time, it reminded fans that the Wii U had some gems hidden amongst its flaws. It just goes to show that one flop doesn't have to define a company's future.