You Have A Chance To Game With Ninja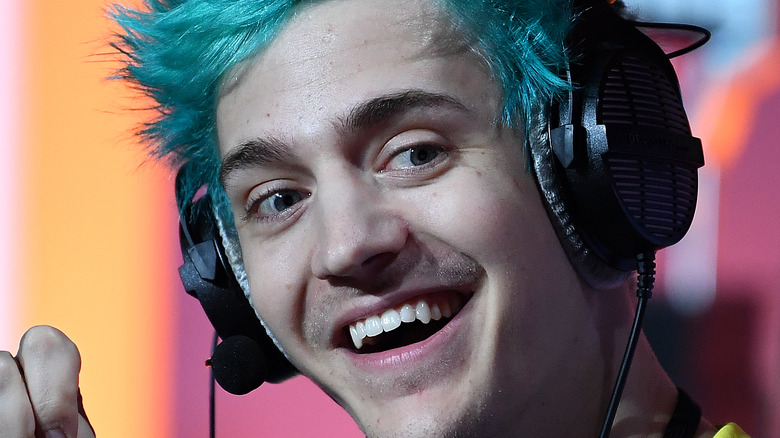 Robert Reiners/Getty Images
Red Bull has just launched a new augmented reality (AR) gaming app, and the company is celebrating by offering some seriously exciting prizes. One lucky winner will even be able to partake in a gaming session with none other than Ninja. And the best part is that you can enter simply by playing some AR games designed by Red Bull.
According to a press release from Red Bull (via Gamasutra), "The Discover Your Wiiings AR games feature a life-like visual effect, transporting the player onto a course designed specifically to each sport including gaming in an e-arena, surfing epic waves, skateboarding through a street skate park, racing across a dirt track and mountain biking through the rugged forest."
Red Bull has pulled out all the stops for this contest, bringing in athletes and competitors from all over. Depending on which game they conquer, winners can go mountain biking with star cyclist Kate Courtney, go for a ride in Travis Pastrana's racecar, go surfing with Carissa Moore, hit the half-pipe with Zion Wright, or take on Ninja in the virtual arena. 
And those are just the grand prizes. Other winners will take home goods like a custom surfboard, an RC car, or a Red Bull-themed PC case. There are a lot of different opportunities to win, but obviously, fans of Ninja are going to be playing to earn a gaming session with the Twitch star and rising Hollywood hopeful.
In order to participate in the Discover Your Wiiings contest, all you have to do is download the free Red Bull AR app on your mobile device. Once you've selected your athlete of choice, open your smart device's camera and scan a can of Red Bull. This will launch the corresponding game, which will populate a course around the Red Bull can on your phone screen. For instance, Kate Courtney fans will be able to play a game called "Climb the Trail," in which players guide a cyclist through a track that appears next to the can. Ninja fans will play a game called "Target Take Down," which appears to surround the Red Bull can in a force field as players blast away at enemy ships and avoid projectiles. The winners will be chosen from the players with the highest scores.
The games themselves are pretty simple, but this appears to be just the beginning for Red Bull's AR games. According to the official press release, the company spent roughly eleven months on research and development to get these just right. So go ahead and try your luck at "Target Take Down," Ninja fans. It might not exactly be Fortnite, but with a high enough score, maybe you'll soon get to play Fortnite with Ninja.