The Bizarre Way Ninja And Doc Ended Up At The Super Bowl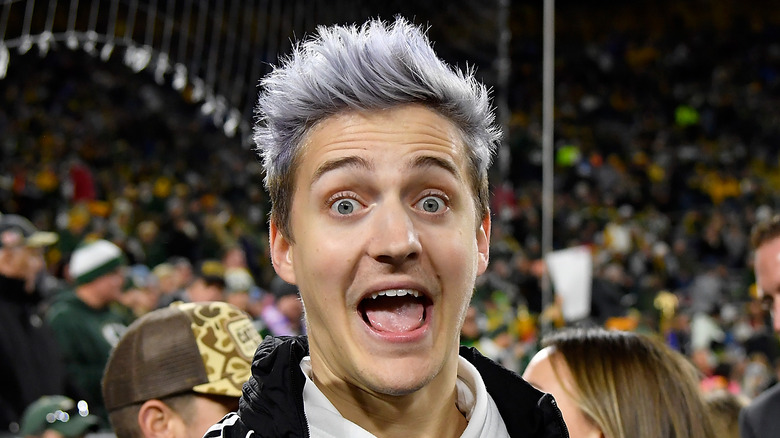 Quinn Harris/Getty Images
By now, you've probably heard about yesterday's Super Bowl contest between the Kansas City Chiefs and Tampa Bay Buccaneers. The ageless Tom Brady and the Bucs came out on top by a score of 31-9, wrapping up what's been a particularly strange year for the NFL. Due to the ongoing pandemic, a lot of NFL games this season were played without many fans in attendance, which forced the league to get creative with things like crowd noise. This was also true for the Super Bowl, which streamers Ninja and Dr Disrespect attended — but not in the way you might expect.
As far as Ninja goes, the famous Fortnite streamer certainly looked to have a pretty good seat at the big game. He wasn't actually there, though; instead, a cardboard cutout of his likeness was plopped down in a chair alongside a bunch of others, presumably to give the appearance of a packed stadium. Dr Disrespect also had a presence at the Super Bowl, though his, too, came in the form of a cardboard cutout. It's safe to say this version of the Doc was likely quieter than the real one would've been. If you were watching the game on TV, there's a chance you even caught a glimpse of him.
So why the cardboard replacements? As mentioned, the NFL tried to adhere to social distancing measures this year, and that continued on through the Super Bowl. Most of the time, the stadium hosting the big game is filled to the brim with people. Super Bowl 55, however, only had roughly 25,000 fans on site.
According to CNN, the NFL found an interesting way to put a positive spin on the situation. A slew of stars got their own cardboard cutouts just as Ninja and Dr Disrespect did. However, the league also had cutouts paying tribute to "some veterans and military personnel, health care workers as well, cancer survivors, [and] youth and high school football players." And others who wished to attend the game in spirit could send $100 and a photo in order to secure a seat for their cardboard doppelganger. The money fans sent in was donated to an organization called Feeding Tampa Bay.
It's worth noting that actually attending the Super Bowl wasn't impossible for those willing to spend the money. Tfue apparently managed to score a box suite for the game, so perhaps Ninja or Dr Disrespect could've done the same had they wanted to. It seems the two streamers instead decided to play it safe this year, watching from home while their cardboard copies took in the action. Maybe next year Ninja and the Doc can share nachos while watching a 44-year-old Tom Brady win his eighth Super Bowl.