Halo Fans Might Have Good News On The Way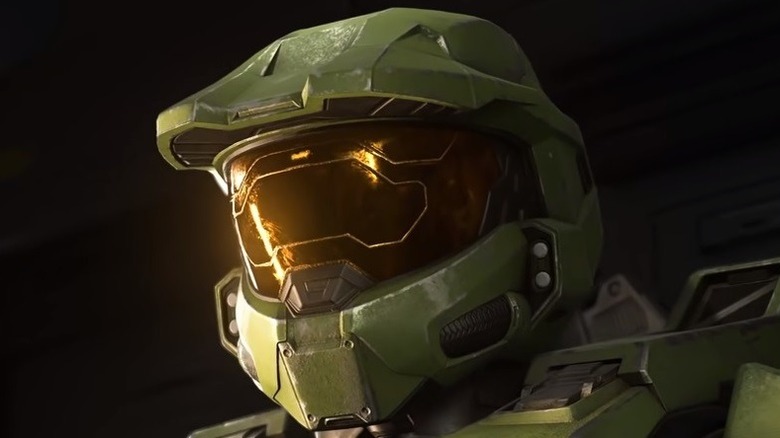 Since the delay of Halo: Infinite, fans have anxiously awaited development updates or any other excuse to get excited about 343 Industries' ongoing space opera series. Based on a new job listing, there may finally be some exciting Halo news about to drop.
Microsoft's job board recently listed a producer role that will "help develop a new project in the Halo universe." The key word to that is "new", as this likely means a separate entry than Halo: Infinite. The listing may offer some legitimacy to claims made in a since-deleted tweet (via VG247) last November, which suggested that two "spin-off titles" would support Halo: Infinite. This could mean a return trip to the RTS formula with a Halo Wars 3, or something completely different.
A fresh Halo project may come as welcome news for fans who have followed the setbacks that have plagued the Halo: Infinite development cycle. Originally billed as a launch title for the Xbox Series X, the departure of key team members appears to have contributed to the decision to push the release back to late 2021. Before this, Halo: Infinite endured incredibly mixed reactions to its gameplay reveal trailer, seemingly setting the tone for the remainder of 2020.
New games aren't the only offerings on the Halo menu currently, as a live-action TV series is still in the works at Showtime. While the show was set to launch in early 2021, the pandemic has caused it — among many other projects — to be delayed with no firm release date. However, a cast list has been revealed, including the actor slated to play Master Chief.
It's been awhile since Halo fans got to enjoy new content. The last mainline entry in the Master Chief story arc was 2015's Halo 5: Guardians, which saw players control both Master Chief — who defies orders to find Cortana — and Fireteam Osiris leader Locke — who is tasked with bringing back Chief and his team. Meanwhile, the last major spinoff in the series was 2017's Halo Wars 2, a real-time strategy offering set shortly after the end of Halo 5: Guardians. The game featured a unique mode called "Blitz" which took away base building and resource gathering and replaced it with playable cards to deploy units.
While Halo: The Master Chief Collection may be the best way to experience the franchise currently, this job posting shows Microsoft is hard at work with one of its most beloved franchises.