This Hidden Xbox Controller Trick Will Blow You Away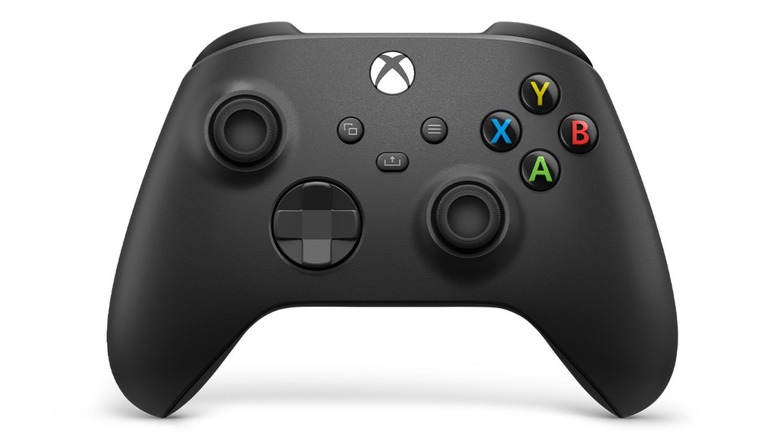 It's not uncommon for gadgets to have some hidden functionality. However, this Xbox controller trick revealed by a Microsoft employee may deserve a spot in the shortcut hall of fame. It's particularly useful for those who are jumping back and forth between a console and a PC, or a console and a smartphone or tablet. Once you learn it, you're honestly going to wonder how you ever got by without it.
According to Microsoft's Timo Wolf, the Xbox Series X/S controller can store sync information for two different devices. You can pair the controller to your Xbox console, and also use it with a Bluetooth-enabled PC or mobile device. When your controller is turned on, you can hold down the sync button on the controller to have it remember your last Bluetooth connection. To quickly go back to using your controller with your Xbox, all you have to do is perform a "double tap" on the sync button.
Unfortunately, there are some caveats to using this trick you should probably know about. For instance, Wolf mentions in a follow-up tweet that the feature doesn't work when jumping back and forth between an Xbox console and a PC using Microsoft's Xbox Wireless Adapter. It seems the controller can only store the sync data for one Xbox wireless connection and one Bluetooth connection. That could be a bit of a letdown if you aren't using Bluetooth on PC.
Wolf also mentions in a reply to someone that the trick isn't supported with iOS right now. This may not be as big a deal, as Microsoft's xCloud service isn't present on the platform at the moment. However, some gamers do use their Xbox controllers to play iOS games like those in Apple Arcade. Things could change as iOS and the Xbox controller receive updates in the future, but if you run into some issues trying to reconnect to your iPhone or iPad, don't be surprised.
As you can imagine, some Xbox fans are downright thrilled about learning this trick. Twitter user @TheGeekyTate wrote, "This is an amazing feature, how is this not advertised more?" Others seem positively stunned by this revelation. "What is this dark magic?" asked @Kawinnie. As Wolf pointed out, "you can't find official documentation" describing how to do this very helpful sync swap. Microsoft apparently didn't think to create it. Now that you have this knowledge, though, you can use it to avoid the more drawn-out sync process and get back in the game more quickly.