Why The New PS5 DualSense Patent Seems Familiar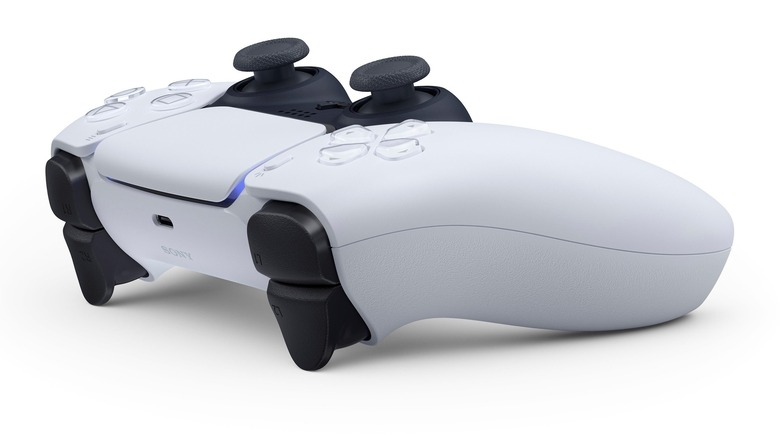 Sony may be looking to make its PS5 DualSense controllers just a bit more like the Xbox Elite controller series by adding an optional back button attachment. IGN reported that Sony filed a patent for the new attachment, which creates additional buttons for players to use during intense gaming sessions. These buttons can be mapped to a player's specifications, similarly to the Elite controller, and changed to fit different gaming situations.
If any of this sounds familiar, it's because Xbox's Elite controller also has a very similar function, which Sony already adapted to its own controllers via the PS4 back button attachment. The creation of the PS5 rendered the attachment unusable with next-gen games. When Sony unveiled the new design for the DualSense controller, it was too large to accommodate the previous back button. The early leaked DualSense designs appeared to have paddles on the back of the controller, which left fans confused when it was revealed that the final design did not include any back buttons.
Now, Sony might be rectifying its decision to nix the programmable buttons. The patent pictures a "controller add-on device with customizable presets," indicating that the device could be programmed for many different options, just like the Elite controller. The patent does not include any information about how the presets would be customized, via in-console app or phone app. It appears that the add-on would attach via the input slots at the bottom of the DualSense controller, with the adaptable buttons sitting firmly on the back of the controller, much like the PS4 back button attachment.
It's possible that Sony does not actually plan to develop a back button attachment for the PS5 DualSense. The patent might instead be a precaution to prevent third party companies from creating a back button peripheral like the one Sony previously made for the PS4. Since the idea already exists, and has been done before by Sony, it would make sense that other developers might want in on that sweet, sweet accessory money.
Everything hasn't been fun and games for Xbox's Elite controller, though. In 2020, fans surprised Microsoft with a class action lawsuit over stick drift. In some cases, customers reported their controllers failed after only a few months of use.
There's no way to know if Sony will actually create new customizable buttons for its PS5 controllers, or if the patent is just a protective measure. Either way, new patents always create a buzz in the gaming community, leaving fans to wonder about what could be the next big innovation in gaming.