Halo 3 Is Bringing This Canceled Map Back To Life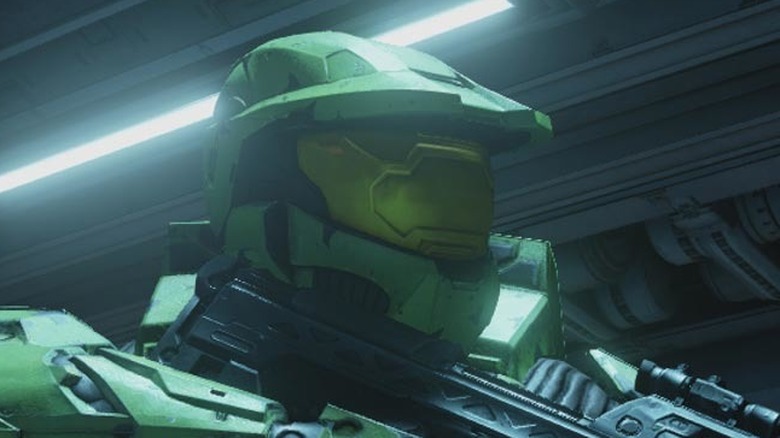 Halo: The Master Chief Collection, which received an upgrade for Xbox Series X|S in late 2020, originally launched for Xbox One in 2014. Since then, 343 Industries has made a concerted effort to improve The Master Chief Collection experience and add even more content to Xbox Game Studios' massive FPS compilation.
The latest Halo: The Master Chief Collection Community Update clued players in on what's coming next for Season 5 following its launch two weeks ago. Perhaps the most surprising bit of information concerned Halo 3. A new map will be added to the game's rotation — one that happens to come from the canceled Halo Online. 
This new arena hasn't received a name yet, but a screenshot of the map gave players a sneak peak at its icy locale and central base of operations. This never before seen map is expected to launch during Halo: The Master Chief Collection's upcoming public beta, which should arrive sometime in February.
Fans have reacted positively to the surprise reveal. "Looking forward to seeing the Halo Online maps in Halo 3. I get that people are worried that Halo 3 is gonna lose its original identity but as far as new maps are concerned I don't feel that's the case. I like to think of them as a new map pack," one user noted. 
Another player wished Halo 2: Anniversary was getting the type of new content Halo 3 will soon receive: "It's cool that a Halo Online map is coming to MCC, and I hope more come, but I wish H2A could get even a fraction of the love H3 is seeing. H2A multiplayer is a fantastic experience, but it just doesn't have enough developer-made content."
Halo Online was meant to be multiplayer-focused title co-developed by Saber Interactive, Innova Systems, and 343 Industries. It was set to feature a wide variety of Halo 3 maps, such as Narrows and High Ground, in addition to a slew of original maps. After a closed alpha that took place exclusively in Russia back in 2015, the proceeding closed beta was suspended that same year. Sadly, Halo Online was abandoned a year later.
The rest of the additions coming to Halo: The Master Chief Collection during its impending public beta are numerous. A custom game browser, Season 6 content, and field of view slider support for all Xbox One consoles are among those welcome updates.