Xbox Unveiled Its New Headset In A Very Sneaky Way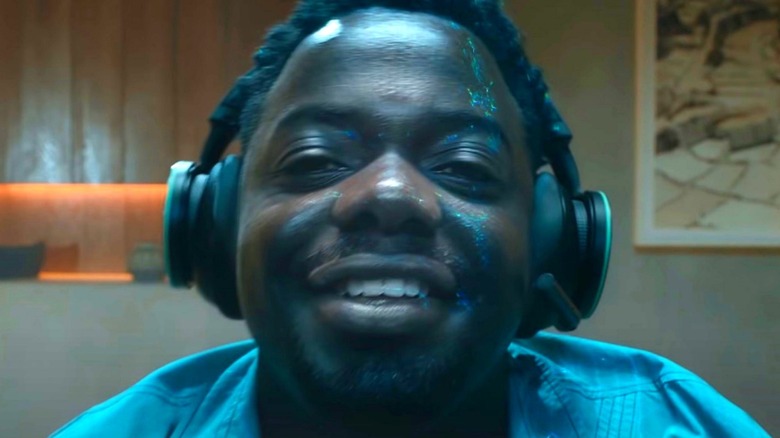 The Xbox team has seemingly been having more fun these past few months, and nowhere is that more apparent than in how some new products have been revealed. Phil Spencer, for example, hid the Xbox Series S on a shelf behind him during an interview. That was before anyone knew what the console even looked like. And who could forget the way the Xbox Twitter account reacted when news of the Series S leaked out?
It appears the Xbox crew has pulled the Spencer stunt off once more, giving fans a look at something new without them even realizing it. This time it was the Xbox Wireless Headset, and once you learn where the headset was shown off, you're going to wonder how on earth you didn't notice it.
Back when the "Us Dreamers" ad launched for the Xbox Series X and Series S in October, the most notable thing about it was that it featured Get Out star Daniel Kaluuya. The spot follows Kaluuya as he sits down in his living room, puts on a headset, and is transported to a world of Xbox gaming. Watch the ad one more time, though, and take a closer look at the headset Kaluuya equips before he goes on his magical journey. Yes, that is indeed the Xbox Wireless Headset being demoed in plain sight. This ad was published over four months before the accessory got an official announcement.
After this latest trick was revealed, fans gathered on Twitter to talk about how the Xbox team had once again slipped something past them. "Seriously....I love these Easter eggs. Looks like I need to spend the morning watching other videos for clues," wrote one user. "I've decided that I'm watching future Xbox content in ultra super frame-by-frame slo mo," added another. Given Microsoft's apparent love for this tactic, it doesn't seem unlikely the company will try to slip more of these hidden product reveals into ads and interviews.
As far as the Xbox Wireless Headset is concerned, fans seem genuinely excited about the new accessory. It not only supports wireless audio and chat on Xbox and PC, but it also has Bluetooth support and can provide four hours of gaming audio on a 30-minute charge. The Xbox Wireless headset will cost $99 when it goes on sale March 19. Until then, fans will undoubtedly be poring over Xbox videos to try and figure out what might be coming next.