Ninja Breaks His Silence On Abusive Messages Drama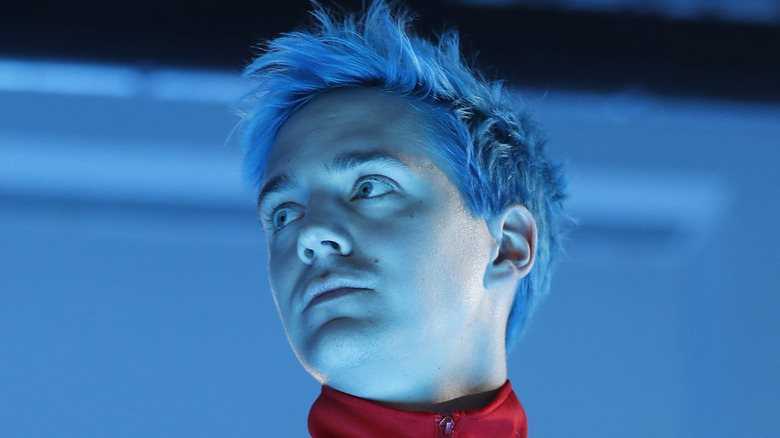 Michael Owens/Getty Images
Tyler "Ninja" Blevins isn't a stranger to controversy. Recently, one of his more lasting statements – that he avoids streaming with women — reemerged in the form of a Twitter debate between Blevins and Michele Morrow, a gaming personality, TV host, and podcaster. That debate reportedly caused Morrow to receive some harassment online.
On Feb. 12, Morrow tweeted several screenshots she received from self-identified Ninja fans. A few of the messages tried to explain Ninja's stance on gaming with women to Morrow, while others were downright nasty. The more threatening messages elicited a response from Felicia Day, actress and all around geek personality, who responded with a simple, "This is awful." Ninja then tweeted to Day himself, writing, "Felicia please don't be baited by this, or the THOUSANDS of people who follow me but do NOT support me or my values." Ninja went on to add, "If Michele did any research outside reading a bad article she would know I host, play, and support all gamers, including females."
Morrow tweeted that she shared the abusive messages for a specific purpose. "My hope in sharing this is to see change with Ninja & Jessica Blevins." Morrow said. "Jessica especially could be a literal icon for women in this space by identifying the issues posed by her client, and flipping the current script in how he interacts with a toxic following."
Fan responses to the conversation were mixed. One fan asked if Ninja should be considered responsible for his fans' behavior, to which Morrow responded "Never, ever said he should." Ninja jumped into that thread to respond, "But you insinuate that by tweeting random messages of people being toxic toward you? Truly you can't think there is any other way to perceive your tweet?" Morrow pleaded for empathy and asked Ninja to be a better role model. One fan simply chimed in with a blunt, "Do better."  Adam Rosenberg, a writer for Mashable, commented on the exchange, tweeting, "If you're not actively disavowing the toxic elements of your fanbase and denouncing their terrible behavior then you're not doing your job as a responsible public figure. Full stop."
As of now, Ninja has not continued conversing with Morrow, nor has he clarified his statements on his personal Twitter account. It seems unlikely that Ninja will budge on his stance on playing with women gamers, but some fans, along with Morrow, hope he can become a more positive presence in the gaming community in the future.