Why You Never Got To Play This Diablo 2 Expansion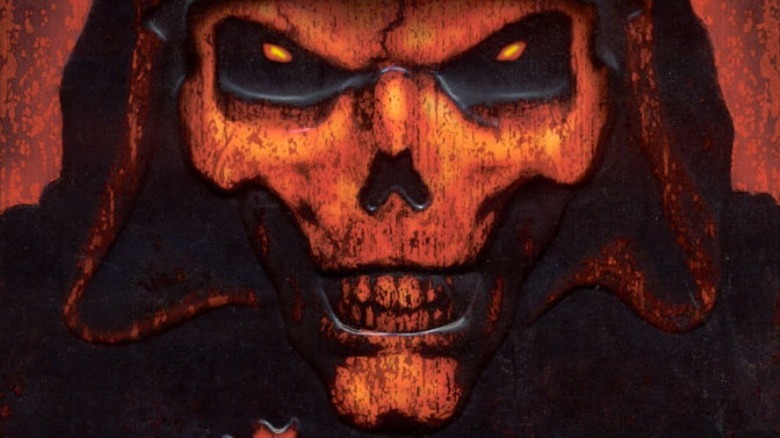 Blizzard Entertainment
We may receive a commission on purchases made from links.
Diablo 2 had a second expansion in the works after its Lord of Destruction expansion, according to a series of tweets from Diablo creator David Brevik. With the mobile game Diablo Immortal on the way and a ton of rumors surrounding the remaster of Diablo 2, Brevik responded to fan comments over the weekend about the cancelled Diablo 2 expansion. He even addressed what caused the expansion to be tossed.
"[I]t was only designed, never produced," Brevik tweeted in response to one fan's question about the second expansion. "I had a multi-page design doc going over new classes, new areas, new mechanics and story concepts. That's as far as it got."
Brevik was the co-founder and president of Blizzard North, the studio responsible for creating Diablo, Diablo 2, and the Lord of Destruction expansion. The studio was not only working on that second expansion for Diablo 2, according to Brevik, but had also started piecing a few other things together.
"I designed it about 6-12 months before I left. This is one of the reasons it was never made," Brevik said of the expansion. "It was before the 1.10 patch (in terms of timeline). We were also working on our version of Diablo 3 at the time, plus another unannounced project."
Unfortunately, when Blizzard and Activision merged, Blizzard North ceased to be. According to Brevik, most team members working on those projects then left the company, including him. That apparently stopped those projects dead in their tracks.
Another fan asked Brevik if he still had a copy of the canceled expansion's designs and if he would ever release them, to which Brevik replied, "I can neither confirm nor deny anything." Brevik also added that he was reluctant to discuss more of the game because Blizzard owns the rights and "they may want to use it someday."
This isn't the first time fans have heard about the cancelled Diablo 2 expansion. A Eurogamer article noted that Brevik told a fan in 2016 the expansion would have included an additional cleric class. The book Stay Awhile and Listen: Book II: Heaven, Hell, and Secret Cow Levels, which Eurogamer also discussed in its piece, reportedly provides even more details about the expansion's multiplayer offerings. It seems unlikely that content will ever see the light of day.
As for the future, the highly anticipated Diablo 4 was announced at BlizzCon 2019, though it's not expected to release in 2021. However, BlizzCon 2020 — a free digital convention this time around — will feature a panel dubbed "Diablo: What's next?" on Feb. 19, followed by a Diablo roundtable discussion and a Feb. 20 Diablo Q&A.