Rockstar Just Stopped Some GTA Fans In Their Tracks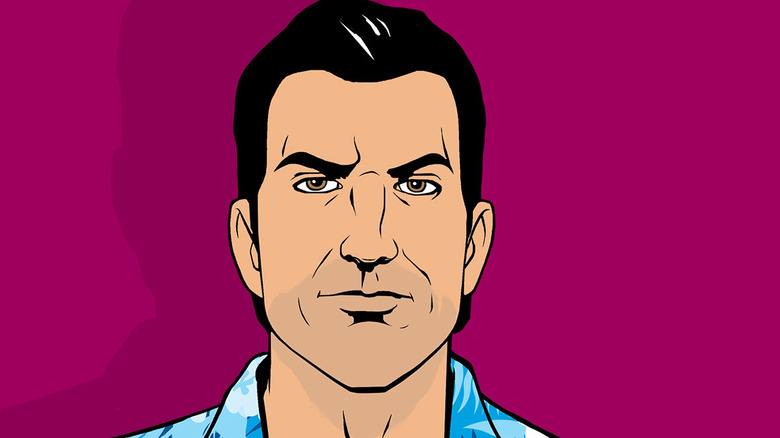 Grand Theft Auto fans have gotten really creative over the years. Whether it's through the use of mods or extremely clever cheats, they're always looking for a way to get more enjoyment out of their favorite series. Unfortunately, the companies that own the popular video game series aren't always too keen on these endeavors. A fan-operated project to create new fan mods and ports for multiple GTA games was recently dealt a mighty blow, and it's unclear if their work can even continue.
As reported by Eurogamer, a GTA fan who goes by the handle "aap" headed up the project, which reverse-engineered the code for GTA 3 and GTA: Vice City and uploaded those assets to GitHub. With these assets in hand, fans have already been able to port playable versions of these games to new platforms, including at least one user who managed to program a playable version of GTA 3 for the Wii U. 
At the time, aap told Eurogamer that they were excited to see what else would come of the project. Some of the ideas that had been tossed around included creating new Android ports for these games, as well as possibly implementing VR features or adding ray tracing to the older titles. There were even talks from aap about bringing the PSP game Liberty City Stories to the PC. Unfortunately, this may no longer be possible, as the project has seemingly been hit with a copyright takedown notice from GTA publisher Take-Two Interactive.
The notice reads, "The content in the links below consists of copyrighted materials owned by Take-Two. The use of our copyrighted content in these links are unauthorized and it should be removed immediately." While aap has told Eurogamer that they're not entirely sure if this is a legitimate claim from Take-Two, it certainly seems official. Eurogamer noted that aap could attempt to contest the copyright claim, but that could lead to a lawsuit. At this point, aap is not sure how or if the project can proceed.
This is the latest mod-related project that Take-Two Interactive and Rockstar have shut down in recent months. Back in January, Luna Mods, a popular source for GTA Online cheats, was ordered to cease operations, escalating Rockstar's war on hackers. However, it should be noted that LunaMods was accepting payments for its mods and cheats.
On a more positive note for fans of GTA 3 and Vice City, the rumor mill has suggested that remakes or remasters of the two games may soon be on the way. Some fans believe that these could be released as part of a trilogy bundle with Grand Theft Auto: San Andreas. However, as with all things Rockstar, fans will just have to wait a while longer for confirmation.