Here's Why The AI In Persona 5 Strikers Sounds Familiar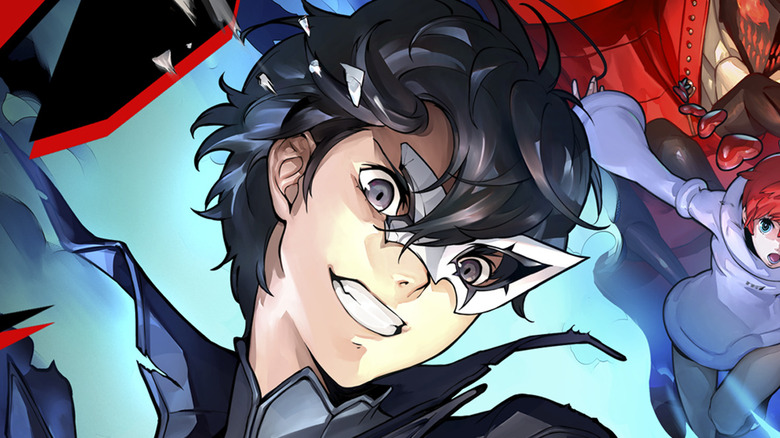 Voice assistants are all the rage these days. Regardless of which smartphone you own or which smart speaker sits in your house, you likely have a virtual human voice ready to give you directions to the nearest coffee shop, or tell you the release date for Elden Ring. The answer to that one, by the way? Never.
There's Alexa. There's Google Assistant. Somehow, there's still Bixby. But the voice that arguably started it all is Apple's own Siri. And if you happen to be playing through Persona 5 Strikers in the very near future, you might feel a bit of déjà vu as you watch a particular scene play out. There's a reason for that.
According the website Voicebot.ai, which covers all things voice and artificial intelligence, the original voice of Siri makes an appearance in Strikers. Susan Bennett, who held the role for the first few years of Siri's run, makes a cameo in the game as, you guessed it, a voice assistant. Bennett is now an AI named EMMA for this gig, compiling a list of "recommended camping gear" for the Persona 5 Strikers crew. If you used Siri back in its early days, the voice you hear in this latest Persona spin-off is unmistakable.
What's more, Bennett actually seemed pretty jazzed about playing the part. Back on Feb. 20, she tweeted out, "Check out Siri Susan as Emma on the new P5Strikers game!" Yes, even years removed from her role as Apple's assistant, she still found time to serve up a reminder to her fans about her next appearance.
Of course, Bennett is no longer the voice of Siri these days. Back when iOS 7 dropped in 2013, Apple added a variety of voices so users could customize Siri to their liking. Bennett moved on to tackle some speaking gigs, perform at some coffee shop concerts, and post highly adorable cat pictures. It is no longer her voice that comes on by accident when someone says anything that sounds like, "Hey Siri."
If you want a trip down memory lane, though — back to when your iPhone was much smaller and you could use it to meet with friends out in the world — you might want to pick up Persona 5 Strikers. The game launched on Feb. 20, and you can get it on PlayStation 4, Nintendo Switch, and PC. Maybe you can even use Siri to buy it.