This Xbox Tease Has Fans Talking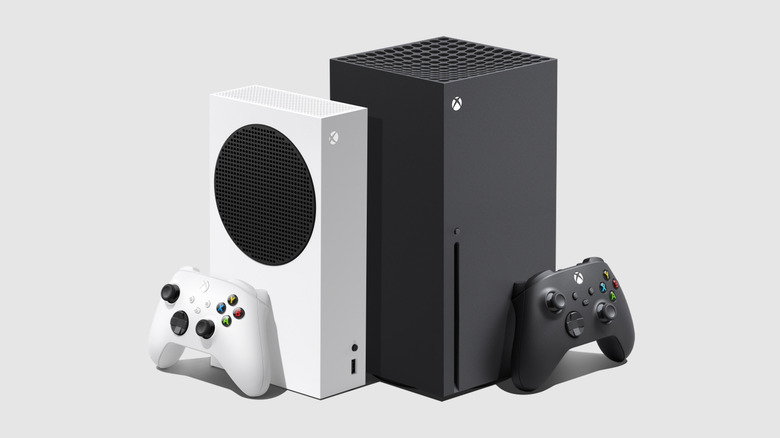 Xbox fans have more games to look forward to in 2021 than they may have expected, if a new interview is any indication. On March 7, Xbox director of program management Jason Ronald sat down for an interview with the Iron Lords podcast, during which he discussed the future of Xbox gaming.
When asked what game he was most excited for in 2021, Ronald cryptically said, "Not all games that are releasing this year have been announced." His response has caused some excitement online since then, with many fans theorizing some possible releases for the near future.
Several popular rumors have sprung up on Reddit's r/GamingLeaksandRumors regarding Ronald's statement, with Forza Horizon 5 coming out ahead as the strongest contender. In late 2020, gaming journalist Jeff Grubb told Xbox Empire (via VGC) that he expected the fifth installment of Forza Horizon to release in 2021 before the new Forza Motorsport. New entries of both series have come out every two years, so fans were due for a new release in 2019 and 2020. Of course, neither of those years saw the release of a new Forza game.
Fans also speculated about the release of Wolfenstein 3. It's been a while since any official word has been announced on the franchise. However, Bethesda's VP of marketing and communications, Pete Hine, did confirm back in late 2018 that Wolfenstein 3 was "absolutely" in the works. Bethesda, which owns the rights to Wolfenstein, completed its merger with Microsoft on Tuesday, March 9. According to Xbox head Phil Spencer, the merger means that some future Bethesda titles will be exclusive to Xbox and PC.
Some fans believe Ronald could have been hinting toward a remaster of Call of Duty: Modern Warfare 3. A remastered campaign mode for the fan favorite Call of Duty game has been rumored to be in development for the past couple years. However, such a title would likely release exclusively on PlayStation at first, according to Call of Duty leaker TheGamingRevolution.
Ronald's statement is the latest to hint at exciting Xbox news being just around the corner. In January, Windows Central journalist Jez Corden told The Xbox Two podcast that he knew of at least two unannounced "big games" that are coming to Xbox in 2021. Though he said he didn't want to ruin the surprise by giving them away, it's easy to wonder if Corden was referring to the same games that Ronald hinted at.
Jason Ronald remained tight-lipped, but told the Iron Lords podcast, "I can't be more excited by the games that have already released, but definitely some of the games that are still in development. This is a great time to be a gamer. We are at the beginning of this next generation and there's this huge opportunity coming forward."
In addition to the unannounced titles that Ronald has teased, there are a number of Xbox exclusives without specific release dates scheduled for release in 2021, including the highly anticipated Halo Infinite.