For Honor's Collector's Edition Will Cost $220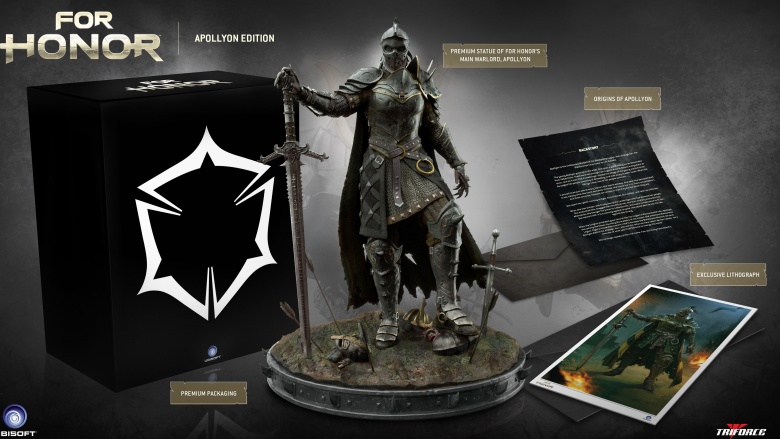 Ubisoft
The For Honor Appollyon Collector's Edition has been revealed, featuring a statue, lithograph, premium packaging and more for the price of $220.
Alanah Pearce of IGN reported about a listing on the GameStop website that gives details about the Collector's Edition's contents. According to the listing, the package will contain the following:
For Honor Gold Edition
14" Apollyon Statue – Standing at over a foot tall, this highly-detailed statue features an accurate reproduction of Apollyon, For Honor's main Warlord.
Exclusive Apollyon Lithograph – The Warlord of the Blackstone Legion seeks to bring war to her enemies in this exclusive Limited Edition Lithograph.
Origins Note – Go deeper into the battlefields of For Honor as you uncover Apollyon's previously untold origins. What secrets lie in the past of the Blackstone Legion's mysterious leader?
Premium Collector's Edition Packaging
The Gold Edition of the game will net you the base game, a Deluxe Pack, and a Season Pass subscription, giving you access to all of the downloadable content as it's rolled out. This version of the game is only available at GameStop and can be pre-ordered for $219.99, so be prepared to drop a pretty penny.
Advertisement
For Honor won't be released until Feb. 14, meaning you can make it a nifty Valentine's Day present for your favorite warmonger. And who knows? Maybe it'll even be solid enough to join the list of the best games of 2017.