Xbox Finally Got Revenge On PlayStation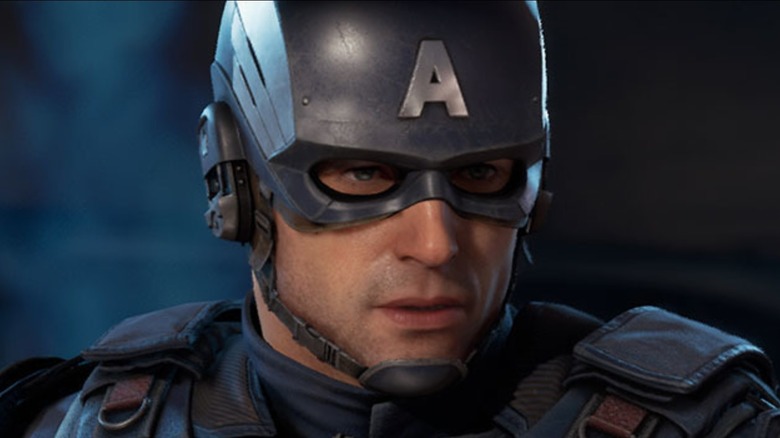 If you were a gamer back before the launch of the PlayStation 4 and Xbox One, you might recall how one single video seemed to cement the fortunes of the two consoles. That clip — Sony's "Official PlayStation Used Game Instructional Video" – painted the PS4 as easy to use and friendly to gamers, while making the Xbox One and its digital rights management look unnecessary and complicated.
Fast forward to 2021, and both Sony and Microsoft have changed quite a bit in how they approach their consoles. Nowhere is that more apparent than with the next-gen upgrade for Marvel's Avengers, which is finally affording Microsoft the opportunity to exact some sweet, sweet revenge.
For those out of the loop, upgrading your PlayStation 4 version of Avengers to the PlayStation 5 version is a bit cumbersome. You have to launch the PS4 version of the game, export your save file, then launch the PS5 version and import that save. Meanwhile, over on the Xbox side of things, the Xbox One version of the game automatically upgrades itself to the next-gen version thanks to Smart Delivery. There is no exporting and importing save data — your game save just works after the upgrade.
On Twitter, The Verge's Tom Warren summed the process up in a pretty succinct tweet. "[H]ow to migrate your save from Xbox One to Xbox Series X: launch the game," he wrote. That led Aaron Greenberg — the GM of Xbox Games Marketing at Microsoft — to share Warren's tweet in a way that was almost certainly meant to needle Sony. "'Thanks,'" Greenberg wrote in quotes, undoubtedly referencing the "Thanks" that Adam Boyes ended Sony's PS4 video with all those years ago.
It's not the first time that Microsoft has fired back at Sony for that video. In October 2020, the Xbox UK Twitter account poked fun at the process for removing and reinstalling the PS5's stand. That tweet was eventually deleted, but it doesn't seem likely Greenberg's will suffer that same fate.
Some gamers on Twitter couldn't help but have a chuckle at Greenberg's tweet and the situation in general. "Aaron Greenberg is savage lol," wrote one fan. Even some PlayStation fans couldn't help but agree. "[M]an, I went through this yesterday," another Twitter user wrote. "So tedious and now I have 2 versions of the same game on my PS5."
While the war between the PlayStation 5 and Xbox Series X/S is still in its early days, it seems as though Microsoft has notched a victory when it comes to the ease of upgrading last-gen games. Whether that translates into first place gold when all is said and done, though, remains to be seen.