This Streamer Is Close To Breaking Ninja's All-Time Record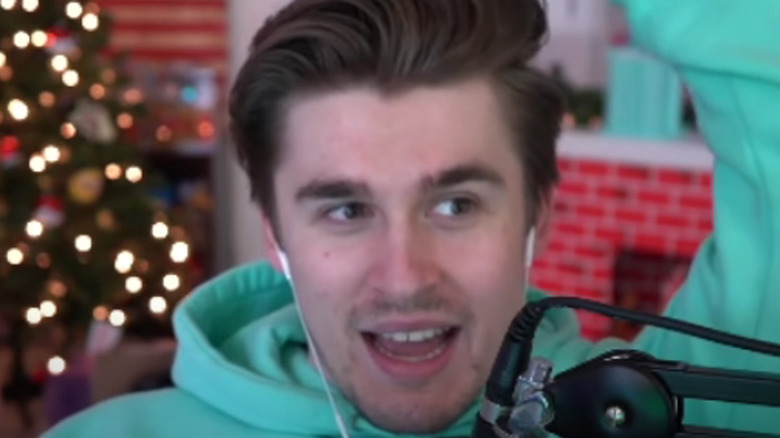 For just over two weeks, Ludwig Ahgren has been streaming non-stop on Twitch, allowing his fans a glimpse into his everyday life as he eats, games, and sleeps on camera. It's been a wild ride for fans, who have enjoyed seeing how far this experiment will go. But this stream is notable for another reason: Ludwig is gaining subscribers at such an exponential rate that he is beginning to catch up with a record set by none other than Tyler "Ninja" Blevins.
According to figures from TwitchTracker, Ludwig currently has far and away the highest number of active subscribers, with over 130,000 people currently subbed to his channel. This puts him well ahead of the second runner-up, RainbooLive, who boasts just over 75,000 active subscribers.
So how did Ludwig create such a sensation surrounding his channel? By launching a "never-ending subathon." GameRant explains that Ludwig started a 20-second timer on his channel and told viewers that every subscription would add 10 seconds. The more time added to the clock by new subs, the longer he'd stay online. That was on March 14, and in the time since then, Ludwig has added new subscription tiers, with the pricier subscriptions adding an extra 100 seconds to his clock.
When Ludwig crossed the 100,000 active sub mark on March 22, he tweeted his thanks to his followers. "BIGGER NUMBER BETTER PERSON," he quipped. "I became the most subbed streamer on twitch ... This was my dream when I first started streaming three years ago."
Ludwig's subscriptions have continued to skyrocket since then, and he is notably a little over halfway to Ninja's record for all-time subscription numbers. At the moment, Ninja still sits comfortably up top with 269,154 "all-time peak active subscriptions." Still, judging by the exponential growth being experienced by Ludwig's channel, it may only be a matter of time (and several more full days of streaming) before he catches up to the Fortnite superstar. As long as Ludwig doesn't lose it mid-stream, he seems to have a decent chance of overtaking Ninja's record.
As noted by PC Gamer, Ludwig has only taken one break since his experimental stream began. In order to attend he a trip he had planned, Ludwig managed to get his buddy Slime (SlimeIRL on Twitch) to tag in for him. Slime passed the baton back to Ludwig on March 28, and later noted on Twitter that he could "never do that full time."