Nintendo Switch Games That Will Blow Everyone Away In 2017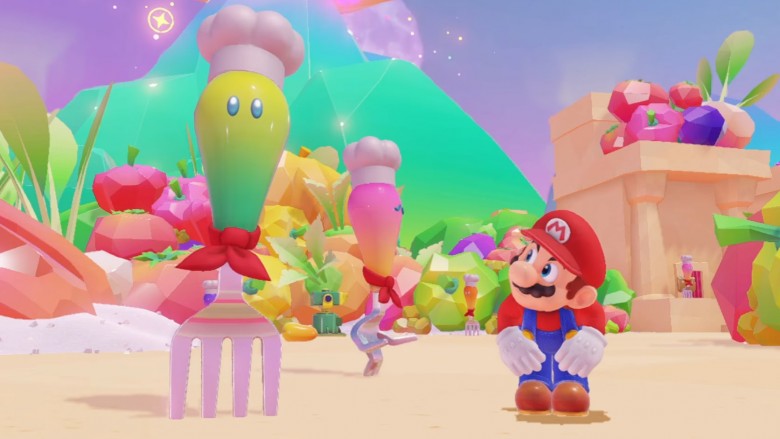 Nintendo
The Nintendo Switch will be released on March 3, 2017, in all of its portable glory, and we know fans will want to get their hands on it as soon as possible. Several games were teased during a special presentation on January 12, giving us a brief look at what's coming down the chute during the console's first year. We've taken a look at the Switch's offerings and have picked out which titles we believe are worthy of your attention as discerning gamers. Check out these Switch games and plan out which ones you'll want to get over the course of the console's release schedule.
Super Mario Odyssey
Super Mario Odyssey is the first sandbox-styled Mario game from Nintendo since the classic Mario Sunshine on the GameCube. In this game and its massive world, you'll be able to control Mario and his magic, hat-shaped rocket house as he explores new locations far outside the borders of the Mushroom Kingdom. While it's no surprise that he'll explore deserts, jungles, and arctic areas, we can also look forward to seeing the mustachioed plumber walking around a sprawling city with people of a typical size. What do we mean by "typical size"? Well, just check out the trailer to see Mario coming up to the waists of the citizens of New Donk City. We can't wait to triple-jump our way to glory and find out just what kind of powers Mario's new, eyeballs-sporting magic hat has in store for Bowser.
ARMS
First we have the wacky-looking ARMS, which turns friends into duelists using springy, extending arms with cartoonish boxing gloves for hands. It might seem like a simple game, pitting two people against each other in a small arena, but you should never underestimate the power of competition among friends. While details about the game are scarce, you can look forward to using the joycon to control your arms as you make punching motions, with even the slightest rotation seeming to move the gloves in the game. There are going to be plenty of outlandish characters to choose from, so you can make sure that your aesthetic is represented. Want to beat up on your friends with a giant mech or a humongous bruiser? You're free to do so! Look forward to the fisticuffs and flinging on the Switch.
Ultra Street Fighter II: The Final Challengers
It's been 25 years since the release of Street Fighter II. Now the classic fighting game returns to Nintendo in Ultra Street Fighter II: The Final Challengers. You'll get the classic 2-D fighting experience you love with HD graphics and brand new playable characters like Evil Ryu and Violent Ken. Even though you'll probably want to play the game with its gorgeous modern aesthetics, there's an option to switch to pixel-art graphics for that retro look. Aspiring World Warriors can take the action on the go and challenge others in the Switch's portable mode, so you can always scratch that itch. But perhaps one of the coolest additions is the ability to team up with a friend in the Buddy Battle mode to beat up on a CPU opponent. We're hyped for more hadoukens on the way!
Mario Kart 8 Deluxe
We've got an inkling that you're going to want to play Mario Kart 8 Deluxe, the "definitive version" of the game according to Nintendo. And by "inkling," we mean that the stars of Splatoon make an appearance as new racers in the game, along with other newbies like King Boo, Dry Bones, and Bowser Jr. This version of Mario Kart 8 comes packed with all the DLC and supports 1080 while the Switch is in TV Mode. You'll also be able to make enemies out of your friends in the revamped Battle Mode and on the new courses like Urchin Underpass and Battle Stadium. As far as multiplayer experiences on home consoles go, Mario Kart 8 Deluxe looks like it's set to be one of the best on the Switch..
Super Bomberman R
Bomberman is making a comeback in Super Bomberman R, and he's bringing his siblings! This new Bomberman title will have some fresh, photo-realistic graphics you can blow up at your leisure, using the same gameplay you've loved for years. You'll be able to pick from a story mode that supports cooperative two-player gaming or the battle mode, in which a maximum of eight players can cause mayhem. We can't wait to take control of the B-man and the Bomberman Brothers, all of whom will be voiced for the first time. Just watch the trailer to check out all of the new environments — as well as classic maps — and see if you're not awash with nostalgia.
Splatoon 2
Fans of Splatoon, rejoice! The sequel to the hit third-person shooter is coming to the Nintendo Switch, and it's packing a big arsenal. According to Nintendo, Splatoon 2 takes place two years after the game was first released and has led to "an evolution in fashion trends and new styles of weapons and gear." You'll be able to wield the brand new Splat Dualies, which are two pistols that brandish in both hands for maximum firepower. Or ink-power, whatever you prefer. Because of the portability of the Nintendo Switch, you'll have the chance to take your online battles to go, with an upcoming smartphone app allowing for matchmaking and voice chat while you're out and about.
The Legend of Zelda: Breath of the Wild
If The Legend of Zelda: Breath of the Wild was the only game released for the Nintendo Switch, that would probably still be fine. Hyrule is finally presented to us as a vast, open world that we can explore at our leisure, blazing trails however we want. The graphics are absolutely gorgeous and almost bring tears to one's eyes. But the meat of any Zelda game is in its gameplay and we could not be more excited to dig into this feast of exploration, combat, and world-traversing action. We're also being treated to some actual voice-acting for the first time, which is a feature that should help us get more engrossed in the story. Add the fact that there's already amiibo support and special versions of the game have us rolling around in glee like a Goron in a mosh pit.
Fire Emblem Warriors
The tease for Fire Emblem Warriors is excruciating because there wasn't much shown. Thankfully, it only took a few seconds of a mysterious figure grabbing a sword to get our hype levels skyrocketing. Considering that the sword we see is the Falchion from Fire Emblem Awakening, we think it's safe to say that Chrom will be one of the playable characters. Just the thought of being able to slice through a sea of enemies, Dynasty Warriors-style with the likes of Chrom, Marth, and some of our favorite Fire Emblem characters should be enough to get you booting up the old games again. Here's to hoping that maybe this game will be so good that Chrom will get enough of a push in popularity to get him into the next Smash Bros. game.
Xenoblade Chronicles 2
Xenoblade Chronicles 2 looks incredible on the Nintendo Switch, especially since the character designs are now courtesy of Masatsugu Saito, an artist who's worked on projects like Cyborg 009: Call of Justice and Expelled from Paradise. It's no surprise then, that the characters have a decidedly more anime-flavored look to them. When these characters are set against the jaw-dropping environments of Xenoblade Chronicles 2, the aesthetics are enough to get you weeping. Every frame in the trailer sparks a sense of exploration and makes you want to cover every inch of the game to take in all of the sights. We're just hoping that the story and the gameplay matches the grandeur and wonder of its art style and scale.
Has Been Heroes
The creators of Trine are bringing a roguelike called Has Been Heroes to the Nintendo Switch, giving players a chance to wield a ridiculous number of spells in order to create different effects. Players will take control of the Warrior, the Monk, or the Rogue as they burn down waves of enemies while escorting princesses to the Princess Academy. Screens will fill up with spell effects and varied combinations of items, baddies, and environments, so prepare for your eyes to be assaulted in the best possible way. According to its overview on the official Nintendo website, Has Been Heroes "takes advantage of many of the unique features of Nintendo Switch–from the controller's innovative linear vibration mode to the ability to seamlessly go from console to portable while never stopping the adventure." Who doesn't like an epic journey on the go?