Turns Out This April Fools' Game Wasn't Actually A Joke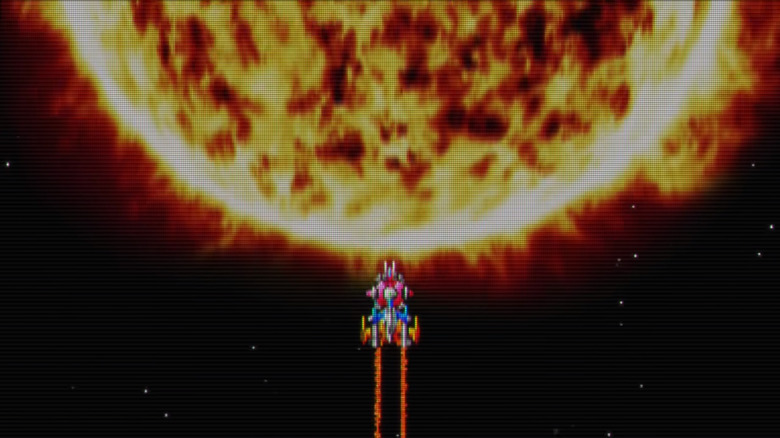 PlatinumGames surprised fans on April 2 with the news that Sol Cresta, a neo-classic shooting title first revealed on April Fools' Day 2020, is, in fact, a real project.
Sol Cresta appeared as a fifth, bonus announcement on PlatinumGames' Platinum 4 website. Announcements for The Wonderful 101: Remastered, Project G.G., PlatinumGames Tokyo, and World of Demons preceded it. However, given the timing of the Sol Cresta reveal, many fans suspected it was little more than an April Fools' joke. It turns out the development studio had more far reaching plans in mind.
Advertisement
"This game is the final chapter of the 'Cresta Saga,' continuing the legacy of Moon Cresta (1980) and Terra Cresta (1985), and centers gameplay around the series' docking feature, elevating it to a core gameplay element to create a shooting game with a focus on freedom," Platinum confirmed in a press release (via Video Games Chronicle).
Fixed shooter Moon Cresta came to arcades in the '80s before receiving a variety of ports to other platforms. It was successful enough to spawn several follow-ups and spinoffs, including a true sequel, Terra Cresta, in 1985. Terra Cresta built on its predecessor's legacy, offering a number of new features, including an overhead view. Though Moon Cresta was a solo project, Terra Cresta had the benefit of a complete team of developers and artists.
Advertisement
Platinum also divulged that Sol Cresta will serve as the first entry in its new Neo-Classic Arcade series, which seeks to capture the spirit of classic games while leveraging modern technology and knowledge.
Prior to the press release, Platinum shared the first look at Sol Cresta's gameplay via the official Announcement Trailer. While it declined to offer a specific release date, the trailer did reveal that Sol Cresta will launch sometime in 2021 for PlayStation 4, Nintendo Switch, and PC via Steam. It's unclear when prospective players can expect to preorder or see storefront listings for the title.
Sol Cresta wasn't the only news from PlatinumGames today. Its combat action title World of Demons also received a surprise release for iOS devices through Apple Arcade. IGN's Daniel Robson called it "a must-play title on Apple's gaming service" as part of their World of Demons preview. So, if you've been on the fence about the monthly subscription price, now might be a good time to give the service a try.