MLB: The Show May Get Its Own 'Madden Curse'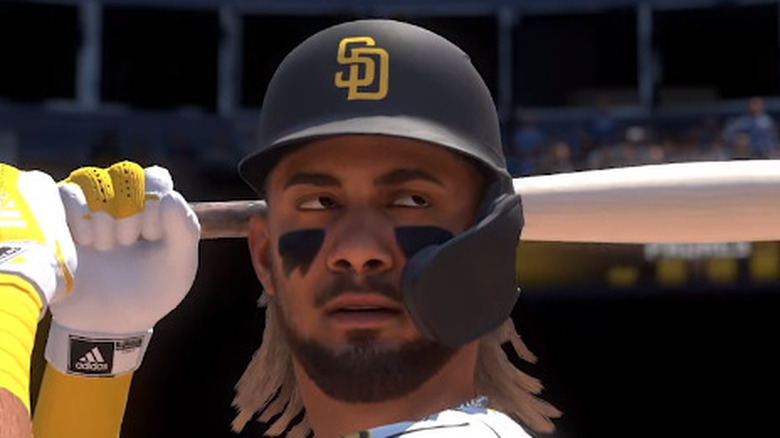 The infamous 'Madden Curse' that has allegedly haunted the series' cover players seems to have made its way to another sports game franchise: MLB: The Show.
The Madden Curse is the long-held superstition that whoever ends up on the cover of a new Madden title will be injured or otherwise face disaster that season. Given the prestige that comes with being on a Madden cover, the superstition was seemingly never big enough to sway players against claiming their time in the spotlight. However, based on a recent injury connected to MLB: The Show 21, professional athletes might start to rethink the legitimacy and potency of the supposed curse.
The cover star for MLB: The Show 21 is Fernando Tatis Jr., a player for the San Diego Padres. During a game against the San Francisco Giants on Monday, April 5, 2021, Tatis injured his arm mid-swing and was removed from the game in the third inning. SF Giants on NBCS shared a video of the incident on Twitter, with the announcers and several fans expressing their concern and confusion over the part of his body Tatis hurt. Later that night, it was announced that Tatis had partially dislocated his left shoulder.
The injury might cost Tatis the rest of the season. According to orthopedic surgeon Dr. Michael Banffy's statement to The San Diego Union-Tribune, Tatis likely has a lateral tear. Banffy did not examine Tatis, but if his prediction proves correct, Tatis could continue playing but risk long-term injury to his left shoulder. The sliver of good news is that he's right-handed — an injury to his left shoulder isn't as troubling as an injury to his right shoulder would have been. Either way, it seems Tatis will likely miss at least a few games while his shoulder undergoes treatment.
No matter what decisions Tatis and his team make, some people are already blaming the long-running Madden Curse that was supposedly broken in 2020. However, it's important to note that this isn't the first time Tatis has had an issue with his left shoulder. During a spring training game, he walked off the field holding his left arm close Tatis has also reportedly had issues with his left shoulder since his minor league days. His injury did not simply appear out of the blue following his appearance on the MLB: The Show 21 cover.
Many fans took to Twitter to talk about this "new version" of the Madden Curse. Thus, the superstition lives on.