Overwatch's Next Event Is The Year Of The Rooster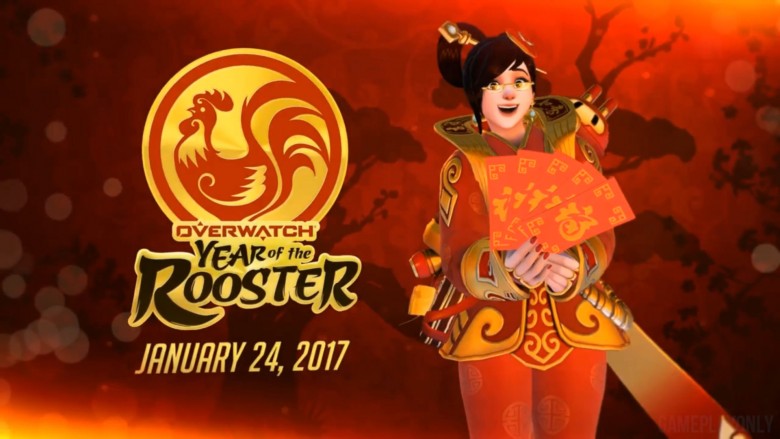 Overwatch's next seasonal event, Year of the Rooster, will center on Chinese New Year when it starts January 24, 2017—two days before the Lunar New Year begins in the real world.
The announcement comes via the official Overwatch Twitter account, which shared a short trailer revealing the name of the event, the date, and a picture of Mei—Overwatch's sole Chinese character—decked out in traditional Chinese garb. A longer trailer, posted to YouTube, also reveals a new outfit for the mech-riding teen, D.Va.
Blizzard, the studio behind Overwatch, hasn't announced what will make Year of the Rooster special, but previous Overwatch events celebrated holidays and cultural events like the Summer Olympics, Halloween, and the winter holidays with exclusive lines of dialogue and new gameplay modes like Lucio Ball and Mei's Snowball Fight. There's no reason to think that Year of the Rooster won't follow a similar pattern.
Overwatch's seasonal events also come with a number of limited costumes, or skins, for its diverse roster of characters. Players can acquire these outfits by opening in-game Loot Boxes, which can be earned via gameplay or purchased using real money.
Blizzard has yet to announce which costumes will be included as part of the Year of the Rooster event, but the costume Mei is wearing in the reveal trailer seems like a fairly safe bet. After fans complained about Mei's Winter Wonderland costume, which was extremely hard to get but didn't look much different from her regular attire, Overwatch director Jeff Kaplan promised that Mei would get "something pretty awesome" early in the new year.
With the weekend just a few days away, now is the perfect time to jump back into Overwatch and get some practice before the Year of the Rooster starts—just make sure to keep an eye out for the clever cheats some people are using to get ahead.