Logan Paul May Have Just Found His New Career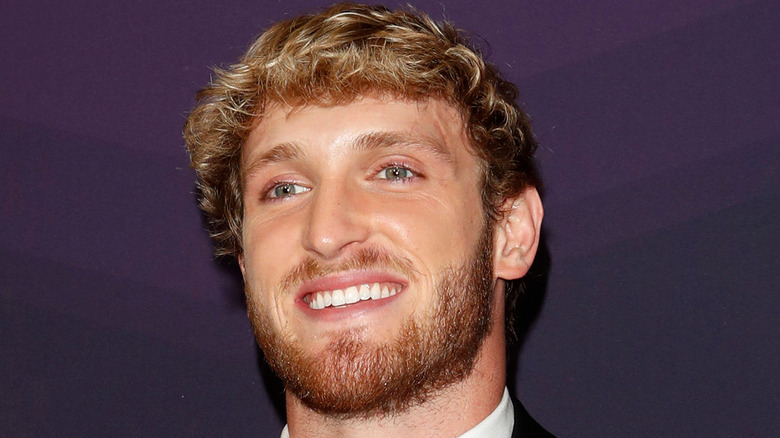 Shutterstock
YouTuber, boxer, podcaster, Flat Earth documentarian — is there any challenge that Logan Paul will not take on? The controversial content creator has parlayed his notoriety into a number of different arenas. The latest of Paul's unexpected ventures was none other than WWE's Wrestlemania 37, which was held on April 10 and 11 this year. And although Logan Paul has a bit of experience in the ring, this match didn't exactly go his way — or did it?
Advertisement
According to reports from Dexerto, Paul was met with a wall of boos from the audience from the second he entered their frame of vision. This has led to rumors that WWE actually edited in applause for the broadcast. Gaming Intel's sources say that this bit of editing did not occur, but fans in the stands were clearly upset by Paul's appearance.
Paul was invited to the show as a guest announcer and wrestler Sami Zayn's "guest of honor." As he stood on the sidelines, Zayn was defeated by his rival, Kevin Owens. Feeling betrayed by Paul's attitude toward the situation, Zayn got up in the YouTube star's face and reminded him that he was there as Zayn's guest. In response, Paul shoved Zayn to the ground, and the crowd went absolutely berserk. 
Advertisement
Logan Paul then took Kevin Owens by the hand and raised attempted to declare him the victor of the match. One of the announcers hilariously remarked that they were so disgusted, they'd be willing to subscribe to Paul's YouTube channel, just so they could then UN-subscribe. Then, as the crowd chanted Owens' name, he hit Paul with a surprise Stunner, a finishing move made famous by Stone Cold Steve Austin.
The crowd absolutely ate it up, and many members of the audience at home had complimentary things to say about the segment. For one thing, a lot of people — even those who are admittedly not fans of the YouTuber — seemed to be impressed that Logan Paul could sell the Stunner as well as he did. Some people thought that this smackdown was a long time coming, including wrestling legend the Iron Sheik, who tweeted, "THE LOGAN PAUL JUST GOT HUMBLED." 
A few fans drew favorable comparisons to a previous match during which Owens brought the pain to rapper Machine Gun Kelly. Even Paul got in on the fun, referring to Owens' maneuver as "the kick heard around the world."
Is it possible that Logan Paul has found his new calling? People appear to be extremely excited to learn that he can take a kick in a convincing way, and his online persona would seem to lend itself well to a "heel" character. Only time will tell if Wrestlemania 37 was the beginning of a new chapter in Paul's career, but this surprise appearance definitely went over better than you'd expect.
Advertisement