Fortnite Has Another PlayStation Character On The Horizon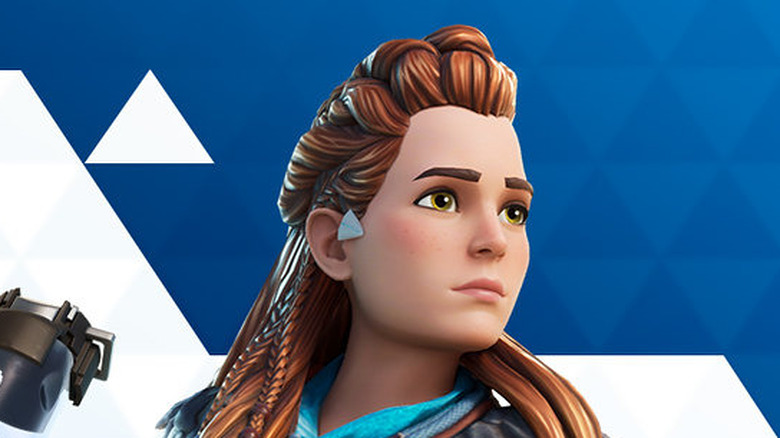 Aloy from PlayStation's Horizon Zero Dawn and its upcoming sequel, Horizon Forbidden West, is making her way into Fortnite in the game's latest crossover event. Announced in a PlayStation blog post by Epic Games community coordinator Michael House, the crossover will feature an Aloy cosmetic bundle, an exclusive Duos tournament, and a team-up with yet another gaming legend. Here are the details.
The Aloy outfit, Blaze Canister Back Bling, Glinthawk Glider and Spear Pickaxe will all be available in the shop on Thursday, April 15, alongside a special emote, gun wrap and effect. The items will be available for individual purchase or in a bundle, which comes with a bonus loading screen. The blog post did not reveal the price of any of the items or the bundle, however, anyone that buys the Aloy outfit and plays on PlayStation 5 will receive the Ice Hunter style for Aloy.
For skilled Fortnite players, a PlayStation 4 and PlayStation 5 exclusive Duos tournament — aptly named the "Aloy Cup" — is happening on April 14, and the top players in each region will unlock the Horizon Zero Dawn item bundle before it goes live in the Fortnite item shop. Players will compete to be the final team standing, but bonus points will be awarded for eliminations with bow weapons, which is fitting for both Aloy and Fortnite's current season. The tournament will be live for a three-hour window, which varies based on your region, and players only have ten matches in which to earn points.
If a new item bundle and tournament weren't enough to celebrate Aloy, she will also be featured in a limited-time mode over the weekend, alongside Lara Croft from Tomb Raider. Lara Croft has been available since the start of Chapter 2 - Season 6 as part of the paid battle pass. In the new limited-time mode, called "Team Up! Aloy & Lara," teams of two players will be given either Aloy and Lara Croft as their skin. Players will also be equipped with Aloy and Lara's signature weapons — either a bow or dual pistols, respectively. The mode goes live on April 16 and runs through April 18.
Aloy is the latest character in Fortnite's unending mission to crossover with every IP in existence. This is the latest character from a PlayStation exclusive franchise to appear in Fortnite, with God of War's Kratos making his in-game debut late last year.