We Finally Know How Much Princess Peach's Crown Costs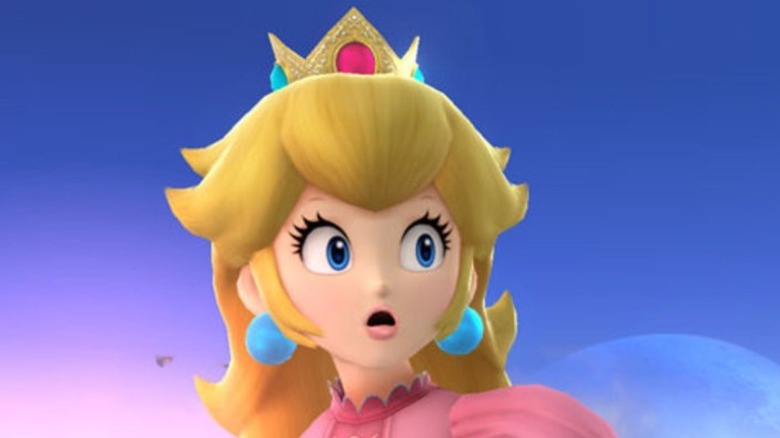 Sometimes gamers take simple things for granted. Take Princess Peach for example. While everyone knows Peach is a princess, the details of her fictional kingdom and finances go undiscussed in most Super Mario Bros. games. Even though Mario and Peach may never work as a couple and Mario totally blew his chance at marrying Peach in Super Mario Odyssey, Peach could continue to finance Mario's escapades in future games. After all, she's got money to burn. Peach is so rich in fact that she regularly wears one special accessory that would cost millions in the real world.
Jewelry experts Taylor and Heart recently published a list of fictional jewelry pieces and their estimated cost in real life. While the Heart of the Ocean from Titanic clocks in at number one on the list, Princess Peach's crown sits above the other items at number two. According to Taylor and Heart, Peach's crown is worth £240 million (about $331 million at the time of this writing). After Peach's crown, items drop drastically in price. The next entry on the list, the Infinity Gauntlet from the Marvel Cinematic Universe, is valued at only £17.5 million.
Taylor and Heart took some liberties with estimating the cost of Peach's crown, as Nintendo has not specified the types of jewels or metal that make up the headpiece. "What could be more fitting for this Princess than a 175ct peach sapphire in the centre of this crown, flanked by Paraiba tourmalines of a similar size and carat," said Taylor and Heart. That's right, Peach is rocking not one but three giant gems in her golden crown.
Other video game related items made the list, which also considered jewels from film and television. Princess Zelda's crown from Breath of the Wild is worth an estimated £18k, while Bella Goth's necklace from The Sims 2 would set buyers back £80k. Of course, the iconic Amulet of Mara from Skyrim is on the list, clocking in at about £6k — a small price to pay for a lifetime of happiness. Players might not be able to afford a real life version of Minecraft's Diamond Sword, though, as it's estimated value is £165k.
Taylor and Heart explained the inspiration for its list by writing, "With many of us spending more time than ever at home, streaming and gaming have become hugely popular – leaving us all wondering, how much would that cost in real life??" Clearly, Taylor and Heart is making the best out of its lockdown experience, giving gamers what they want by sharing all the financial gossip on Princess Peach.