Pillars Of Eternity II Is On Its Way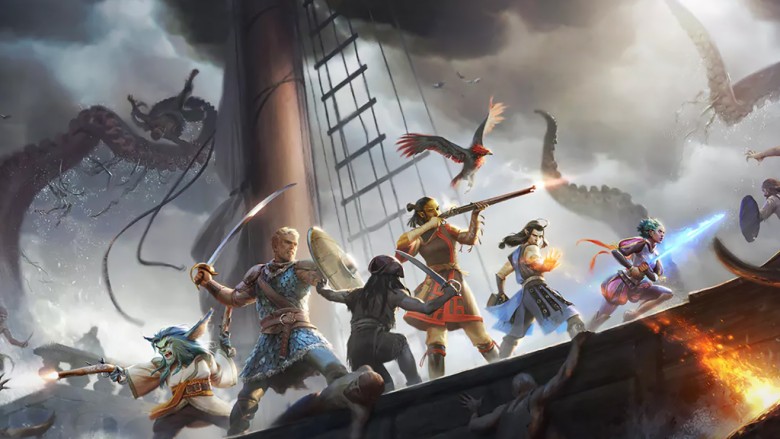 Obsidian Entertainment announced that Pillars of Eternity II: Deadfire, the sequel to its 2015 RPG hit, is currently in development—and the developers are asking for fans' help to make Eothas' return as exciting as possible.
Advertisement
Like its predecessor, Pillars of Eternity II: Deadfire is a 2D, isometric role-playing game in the style of classic Dungeons and Dragons RPGs like Baldur's Gate and Icewind Dale. According to Obsidian, the first game's combat system, customizable gameplay, and some of its fan-favorite characters will return, while a "living" world, a dynamic weather system, and better lighting and graphics will help keep things fresh and exciting.
Deadfire, where Pillars of Eternity II takes place, is a series of islands connected by boats, and Obsidian promises that players will be able to "help to resolve a multi-layered conflict between the locals, ambitious trading companies, and bands of fierce pirates" while also fighting the forces of evil. Deadfire's citizens have their own lives and goals, and they'll act even when they're not on screen, making each player's Pillars of Eternity II experience unique.
Advertisement
While the game is currently supported by money raised by the first Pillars of Eternity, Obsidian has launched the game on Fig, a game-focused crowdfunding platform, in order to raise money for extra content. Obsidian needs $1.1 million to finish the game's French and German translations and implement "dual-classing," which will give players even more options for customizing their characters and their companions. As is par for the course, the crowdfunding campaign contains a number or reward tiers, but fans who are willing to pay $1000 or more will also be able to buy shares in the game in order to receive a small piece of any potential profits.
This isn't the first time that Obsidian Entertainment, the studio behind Fallout: New Vegas and South Park: The Stick of Truth, has turned to crowdfunding for help making a game—the first Pillars of Eternity raised almost $4 million on Kickstarter, making it the best-funded game on the platform at the time.
Obsidian hopes to have Pillars of Eternity: Deadfire out in early 2018, although with the amount of content that the developer has planned (including, hopefully, some ridiculous side quests), that could change.